"For many people, managing pain involves using prescription medicine in combination with complementary techniques like physical therapy, acupuncture, yoga and massage. I appreciate this because I truly believe medical care should address the person as a whole – their mind, body, and spirit." Naomi Judd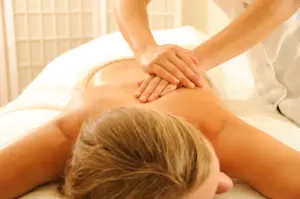 Naomi Judd hit the nail on the head with this quote. We completely agree with her that medical care, no matter what that might consist of shouldn't be dedicated to just one area. The type of medical issues you have greatly affect your entire way of life. So, each treatment should focus on getting your mind, body and soul back into congruence with one another. One way we at the Camellia Inn believe can help your mind, body and soul come back together is through a therapeutic massage.
What is a Therapeutic Massage?
Before we get into what we offer by way of a Therapeutic Massage, we'd like to define it first. A Therapeutic massage is a general term that describes any type of massage modality that helps relieve pain, reduce stress, and work on a specific problem you are having. For example, this may be a shoulder or ankle that is hurting or unable to be moved. There is a big difference between Therapeutic Massages and Deep Tissue Massages. People tend to assume that these massages are the same but there is a difference. While having a Therapeutic Massage, there isn't the need to administer excruciating pain in order to get results. Deep tissue massage, is a type of massage aimed at the deeper tissue structures of the muscle and fascia, also called connective tissue. The pressure will generally be more intense than a relaxing Therapeutic massage.
What are the benefits of a Therapeutic Massage?
Just as Naomi Judd stated in her quote above, your mind, body and soul have to be addressed as a whole. Everything is affected when it comes to an injury, a sickness, or fatigue. When it comes to a Therapeutic Massage, there are an amazing amount of benefits. Everyone is different, all our bodies respond differently to treatments, medicine, or whatever you've decided to use. There's no timetable for recovery, but most everyone that has a Therapeutic massage with us has said they've benefited. Some of the benefits to look for are these. There is a recovery from some anxiety issues. We have heard that there is a relief from some digestive disorders. Other ailments that we've been told people have seen a recovery from are Fibromyalgia, Headaches, Insomnia related to stress, Myofascial pain syndrome, Soft tissue strains or injuries, Sports injuries, Temporomandibular joint pain.
Check us out!
Our Healdsburg Camellia Inn has you covered when it comes to Therapeutic Massages. With the information we provided about therapeutic massage, here is a list of what we offer at the Camellia Inn.
Camellia Signature
Our Camellia Signature massage is a relaxing Swedish Massage. This signature massage is done by rubbing the muscles with long gliding strokes in the direction so that blood flow can return to the heart. A Swedish massage is exceptionally beneficial for increasing the level of oxygen in the blood, decreasing muscle toxins, improving circulation and flexibility while easing tension.
Our Master's Massage
The next Therapeutic massage treatment we offer you at the Camellia inn is the Master's Massage. This is another fantastic treatment we offer at our Spa in Healdsburg. With this treatment, you'll consult with one of our senior therapists who is trained in many modalities. This type of therapeutic Massage is perfect for anyone wanting to reconnect with their mind, body and soul through a one on one treatment. Our therapists will put together a treatment that revolves around who you are, what you're capable of, and what you want to get out of it. This Therapeutic Massage is the ultimate stress relief and relaxation.
Let's get you in here!
The summer is now upon us and there will be many reasons to get away. Coming to the Camellia Inn in Healdsburg to receive a Therapeutic Massage is a great way to get your mind, body and soul ready for these summer travels. We can't stress enough how important it is for all of us to be in balance with life and our own mind and soul. That's why we have put together such spa treatments and packages for you to be a part of. For more information having to do with our specials and packages, click this link. https://camelliainn.com/specials-packages. If you already know what you want, then please contact us now to book your Therapeutic massage, or just contact us to book a stay. Whatever you want, we are here to make it happen for you.