"What nicer thing can you do for somebody than make them breakfast?" – Anthony Bourdain
The late Anthony Bourdain raises a unique question, with the answer being, not much. When someone prepares you a breakfast, it usually brings a smile to your face because you realize that someone else has taken the time to treat you. Our Healdsburg staff wants to bring smiles to your stomachs with our Healdsburg breakfast. The Camellia Inn Bed and Breakfast is just one option for you when it comes to breakfast. The town of Healdsburg has an abundance of great Healdsburg Breakfast spots to choose from. You can look at what we at the Camellia Inn has to offer by clicking the following link https://camelliainn.com/about-us/breakfast/
We'd also like to provide you with a look at other sensational Healdsburg Breakfast options or places around Healdsburg that you can partake in while staying with us at the Camellia Inn Bed and Breakfast.
Carlos' Country Kitchen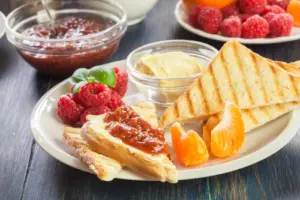 A great place to enjoy a meal isn't a Healdsburg Breakfast spot but it's not far and it's a real treat. Carlos' Country Kitchen is located in Santa Rosa. If you are into big portions and a filling menu then this breakfast choice is ideal. Carlos' Country Kitchen isn't a place where you go for ambiance, but it is a place to go to stuff your bellies. They serve amazing food in big portions. The Biscuits and gravy are fantastic, while the pancakes, scrambled eggs and Huevos rancheros are second to none. You can't go wrong here. You will not leave hungry or disappointed. Head over to their website to see their full menu. http://carlos-country-kitchen.cafes-usa.com/
Dierk's Parkside Café
Another non-Healdsburg Breakfast joint that we highly recommend is Dierk's Parkside Café also located in Santa Rosa. There's literally no room for pretension at this intimate neighborhood restaurant where regulars sip coffee at the bar and chat up waitresses buzzing from table to table.  Over the years, Mark Dierkhising has created a morning institution that's popular with bed-headed kids, bike groups and in-the-know Wine Country visitors. All these individuals will suggest the Chicken Fried Steak, Huevos Rancheros and the Country Benedict whose magical powers include a warm baguette, scrambled eggs, bacon, mushrooms, oven-dried tomatoes, spinach, hash browns and Hollandaise sauce. There's a reason why Dierk's is one of the best breakfast spots in all of Sonoma County. We suggest heading over to their website to see the entire menu. http://www.dierksparkside.com/
The Parish Cafe
The Parish Cafe is on the top of our list for Healdsburg Breakfast spots for you to enjoy.: Do you love beignets?  If that's all you have for breakfast, no one will fault you, since the feather-light French pastries are rolled out by hand before being quick-fried and smothered in powdered sugar. Chef and owner Rob Lippincott, pays tribute to his Louisiana heritage with New Orleans masterpieces such as Eggs Nouvelle Orleans or eggs benedict, piling poached eggs, mounds of sweet blue crab meat, silky house-made hollandaise and a scattering of shallots on crisp buttered French bread. All around, polished wood-plank tables are laden with plates of baguette po' boys stuffed with eggs over medium, savory Black Forest ham, provolone, spinach and tomato; crawfish-andouille omelet; or shrimp and grits studded with bacon. Still craving sweet? The Bananas Foster Pain Perdu will set you up, with fluffy French toast gilded with fresh bananas, pecans and maple bourbon sauce. You need to check this Healdsburg Breakfast joint out. https://theparishcafe.com/
Downtown Bakery & Creamery
If you are looking for a quick and delicious Healdsburg Breakfast option for you and the family then we suggest the Downtown Bakery & Creamery. This Healdsburg Breakfast choice has so many options for you to enjoy such as fluffy and tasty pancakes, scrambled eggs, breakfast sandwiches, poached eggs with polenta, Quiche and so many more options. This place doesn't disappoint and you won't leave hungry. Here is a link to their website you so you can get a head start on what to choose from. http://www.downtownbakery.net/
The Healdsburg Breakfast scene is Legit!
What we've listed above are just a few of the Healdsburg Breakfast locations that offer exceptional menu options for you and or your family. There is an abundance of great restaurants scattered throughout Sonoma County that'll meet all of your breakfast needs. If you are looking for a Healdsburg breakfast or brunch, you will find it here. If you need a more detailed list of Healdsburg Breakfast locations, we'd be more than happy to help you out. Our Camellia Inn Bed and Breakfast staff is versed in everything having to do with Healdsburg and the Healdsburg Breakfast scene. Don't hesitate to contact us. We'd love to help you find the very best place for you and your family, so you can enjoy the tastes that our town of Healdsburg has to offer.