"You can't buy happiness, but you can buy a massage. And that's kind of the same thing."
We came across this saying online years ago and it's kind of stuck with us. It makes us laugh but it's also kind of true. A massage at any Spa, if they are doing their jobs right, will leave you feeling relaxed, calm and peaceful. All of those at the end of the day all lead to the same thing in our opinion, and that's happiness. Our Camellia Inn Spa in Healdsburg is just one of many Spa destinations for you, your friends or your family members. We are proud to say that our Healdsburg community is strong and supportive of each other and don't mind promoting one another. So, with that said, we've put together a list of some Spa businesses for you to learn about. We truly want you to find the Spa treatments that are best for you, so check out this list.
A Wise Massage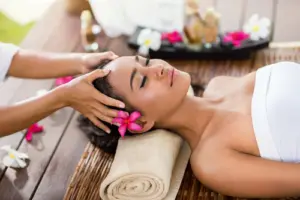 The first Spa business we want to talk about is located in the heart of downtown Healdsburg. A Wise Massage is located on Foss Street which is only a short walk from our Camllia Inn. This Spa offers an assortment of treatments for you such as, Facials, Couples Massages, Skin Treatments and so much more. The therapists at this venue provide a wonderful balance of nurturing and technical skill. All of which will aid in helping your mind, body and soul heal. To learn more about what "A Wise Massage" offers, head over to the following website. https://awisemassage.squarespace.com/
A Simple Touch Spa
The next Healdsburg Spa business we think you should look into is A Simple Touch Spa. They are located on Center Street in our town of Healdsburg. They are also only a few minutes away from our Camellia Inn B&B. There you'll be treated to many Spa options that include Massages, Couples Massage, Facials, Skin Treatments, Body Wraps, Reflexology, Aromatherapy and a handful of other options. We highly recommend this Spa business because they tailor everything to suit your needs and stand by their ability to help you rejuvenate, relax and unwind. Head over to their website to find out more about this wonderful Spa. http://www.asimpletouchspa.com/
Cynthia Frampton, LVN & Massage Therapist
Another special Spa location for you to research is with Cynthia Frampton, LVN & Massage Therapist. This is a perfect destination for anyone wanting a fantastic massage that's unique to you and you alone. Cynthia has over 40 years of experience in helping her clients let go of concerns and anxieties. Her Spa treatments will help anyone get into touch with their own ingrown healing abilities. This Spa location is just a hop skip and a jump away from the Camellia Inn's front door. We suggest you read more about what Cynthia offers by heading over to her website. http://www.cynthiaframpton.com/
Spa Dolce
Continuing on with an excellent Spa experience for you and your family is over at Spa Dolce. This brilliant Spa choice for you is also on Center street. Spa Dolce offers many spa treatments for you like, manicures, pedicures, body wraps, massages, Skin treatments and facials. Spa Dolce is extremely talented and educated and will always provide you with the latest treatments and ways of getting you feeling at one with your mind and body. Don't hesitate one bit to book a spa day with them, they are one of the best businesses around. Please click the following link to learn about everything they can offer you. http://www.spadolce.com/
Massage Me
The last spa we want to talk about but certainly not the least is Massage Me. They offer full body and chair massages in a private, comfortable studio. Their location is also in downtown Healdsburg, half a block from the plaza. Modalities include Deep Tissue, Swedish, and Sports Massage. Their additional services include services sugar foot scrubs and aromatherapy. They encourage Walk-ins if the scheduling permits and Ashley is in the studio. There will be a sign outside the door that states "Walk In Welcome." Saturdays are by appointment only and Sundays are generally closed, but may be available if schedule permits. Check out the Massage Me website for all other specifics. https://healdsburgmassage.com/
The Healdsburg Spa scene is Lit!
Honestly, this list is only a handful of Spa options for you to choose from. There are so many more and we highly encourage you to do your research. You can't go wrong with any of these options. Obviously, we at the Camellia Inn can provide you with everything you could ever want or need out of a Spa treatment. But we book up regularly, so it's always nice to have other options. To learn more about what we offer, click this link https://camelliainn.com/the-spa/ . If you want to talk with us, don't hesitate to call, we are ready and willing to help get you pointed in the right direction or to get you booked with one of our highly trained therapists. We look forward to getting your Spa desires fulfilled. Contact us or more information.