"Morning or night, I love putting mint or spearmint oil on my temples and the back of my neck. There's this aromatherapy quality of both easing tension and waking you up." — Lily Collins
If you've never heard of the 29 year old actress, we think you should probably look her up. She's a beautiful person, and from what we gather from her quote is that she's a fan of aromatherapy. There are so many benefits for your mind body and soul when you start implementing aromatherapy into your everyday lives. We'd like to discuss those benefits and especially the benefits of an Aromatherapy Massage with Rose Essential Oil.
What is Aromatherapy?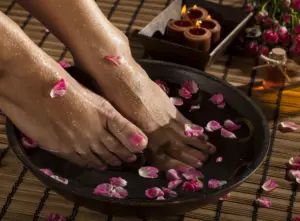 Before we get to the benefits of an Aromatherapy Massage with Rose Essential Oil, we'd like to define exactly what Aromatherapy is and can do for an individual. Wikipedia defines aromatherapy, "Aromatherapy uses plant materials and aromatic plant oils, including essential oils, and other aroma compounds, with claims for improving psychological or physical well-being." Administering aromatherapy into your everyday lives can be done by yourself or through massages, such as one you can find at the Camellia Inn.
Rose Oil…Oh you bet big time!!
Why do we want to discuss the benefits of Aromatherapy with Rose Essential Oil is probably the follow up question to what is Aromatherapy? Rose essential oil is a type of essential oil that comes from the Rosa damascena plant. This is where the flower's aromatic compounds exist. Massage therapists all understand that these compounds possess healing powers. We all know that there are a plethora of different Rose colors and scents. With that said, those colors and scents have been compounded down into Essential Rose Oils that can help you overcome many mind or body or soul complications.
Check out these proven benefits!
We all know that science is always evolving, and soon there will be more information for all of us to learn about why the Benefits of an Aromatherapy Massage with Rose Essential Oil is becoming so popular.
Your Stress levels can be helped…
Getting an aromatherapy massage with Rose essential oil can help relieve stress. There was a study conducted back in 2009. The study was published in Natural Product Communications. There were 40 healthy people whom absorbed the rose essential oil through their skin. The results were that each individual felt an increased calmness and relaxed state of life. Some also found their blood pressure was decreased while others were happy to have a lower breathing rate.
Rose Oil can help your Skin Health
There are many qualities of rose essential oil that make it beneficial for skin. There was a 2010 article published that proved that Chinese researchers uncovered that rose oil exhibited one of the strongest bactericidal activities compared to 10 other oils. They also discovered that just after five minutes the benefit of a Aromatherapy massage with Rose Essential oil could destroy acne. Essentially, what this means is that when rose is added to your beauty and skin products, it opens up your skin to absorb more of the chemicals and nutrients.
Sedates Inflammation
If you are like me, who is aging and in need of a way to reduce inflammation then a aromatherapy massage with Rose Essential Oil is a great option. Rose Essential oil is beneficial in cases of inflammation caused by microbial infection, ingestion of poisonous materials, indigestion, and dehydration. This can result in a reduction of associated conditions like rheumatism, arthritis, gout, and fever.
Anxiety
Another benefit of an Aromatherapy massage with Rose essential oil is that it acts as a tonic for the nerves. It gives them the strength to bear shock and protects them from disorders resulting from age and injuries. It will keep your hands from trembling and help you overcome your anxiety when you are in an unideal situation or you are having a tough time getting your mind centered.
The Camellia Inn and Aromatherapy Massage with Rose Essential Oil
Rose Essential Oil is another Great option for anyone needing treatment for any number of ailments. The benefits we listed above are just a few of the many that can be treated with Rose Essential oil. Having an aromatherapy massage with Rose Essential Oil is something we highly believe in, and something that's becoming more and more popular every day. We highly suggest you do you research to learn more about the history of Rose Oil, and how it can be administered. If you'd like to email us or call us at the Camellia Inn, we can help point in answering those questions. At the end of the day, all we want to provide is a way to help you become the very best you! Hope to hear from you soon!