"I can see clearly now the rain is gone
I can see all obstacles in my way
Gone are the dark clouds that had me blind
It's gonna be a bright (bright)
Bright (bright) sun-shining day
It's gonna be a bright (bright)
Bright (bright) sun-shining day" – Johnny Nash
Don't these lyrics by Johnny Nash just get you ready for the great weather and great times that are in store for all of us in the coming months? Our kids are getting ready to end the school year, some of us are coming upon vacation time, and most of us are just ready to welcome the warm weather. The great thing about this time of year is that it's just beginning. There will be so many events and so many opportunities for all of us to enjoy. It's just the beginning of everything. With all these opportunities at your disposal, a Healdsburg Ca Spa treatment should be on the top of your lists for a plethora of reasons. You'll be able to relax, regenerate and romance because the Healdsburg Ca Spa scene is legit! There are so many options for you, your family or your relationships to be a part of.
The Camellia Inn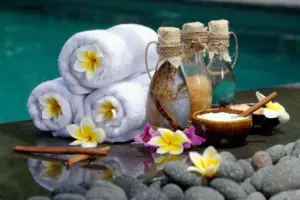 We think it's best to start with us when you are trying to decide on a Healdsburg Ca spa treatment. We offer everything from a Relaxing Swedish Massage, to a Deep Tissue massage or a Mother to be treatment. Out therapists at the Camellia Inn Healdsburg Ca Spa are highly trained in many different modalities of treatments. Attentive and gracious, we're proud to say they're among the finest professionals in wine country. They will provide you with the best care and are dedicated to making your treatments unique to you and you alone.
Wellness by Candy
A unique Healdsburg Ca Spa company that we at the Camellia Inn believe you should research is Wellness by Candy. Located on Healdsburg Ave, Wellness by Candy is a dual licensed Esthetician and Massage Therapist that will offer you many massage therapies that include, relaxing facials, peels to treat problematic skin conditions, and hair removal and so much more. You can find out more by heading to their website.
Massage Me
Another great Healdsburg Ca Spa company for you to look into is Massage Me, which is located on Matheson Street in downtown Healdsburg. Ashley Hansen can provide you with one of the best massages in all of Healdsburg. Ashley's massage studio welcomes you to an experience that is versed in the relaxation found in nature and sounds of running water. Relax and rejuvenate by treating yourself to a massage after a day of experiencing all of Healdsburg or Sonoma County. Ashley is a certified massage therapist that works within a mixture of modalities, including Swedish, Deep Tissue, and Sports Massage to give you a full body relaxation experience. Head over to her website to book an appointment. We promise you won't be disappointed. https://healdsburgmassage.com/
Elements on the Plaza
Another Healdsburg Ca Spa location that we suggest is, Elements on the Plaza. Entering the world of Elements Day Spas is like stepping into a quiet, private oasis where you'll be pampered, soothed and treated to a blending of ancient healing traditions and the latest advances in modern skin care research. With two beautiful locations, Elements Day Spas are appealing to both men and women. Whether you visit their beautiful, boutique-style spa in Santa Rosa, or our stunning spa perched high above the Plaza in Healdsburg, they promise you an experience you'll long remember. You can head over to the following website to research and to book an appointment. https://www.elementsskincarestudio.com/
A Simple Touch Spa
The last but certainly not the least Healdsburg Ca Spa business that we suggest you taking a peak over at is A Simple Touch Spa. A Simple Touch Spa has been around for nearly 20 years and wants to help you relax, renew and rejuvenate your mind body and soul. They can provide you with massages, facials, group treatments and out-call services. They have several Spa in Healdsburg, ca packages that will be catered to you and you alone. At A Simple Touch Spa, you are their top priority. They will tailor all their treatments from, Massage to Skin Care or Spa Party-for your overall well-being. Take some time to talk with the staff because they will find a treatment or a combination of treatments to help you Relax, Renew, Rejuvenate. I think we sold you, so head over to the following website to book an appointment. They book up fast so don't hesitate. http://www.asimpletouchspa.com/
Healdsburg and your Spa needs!
We can't express enough how important it is to let go of the everyday grind and decompress somewhere somehow. We think having a Healdsburg Ca Spa treatment is the ideal option for you. We listed a plethora of options for you during this blog post. Although, we do believe that the Camellia Inn can provide you with everything you need, we understand that choosing a Healdsburg Ca Spa treatment should be something you feel is right for you and we support that fully. We want the best for you, your family or your partner. Don't hesitate to contact us to ask any questions. We are always here to support you.