"Spring is nature's way of saying, 'Let's party!' — Robin Williams
It's beginning to look a lot like Spring time! We know this isn't how the saying goes, but Spring is literally right around the corner. We see that a lot of people are getting into shape and getting ready to pull out the shorts and skirts and warm weather apparel. We know this is the time that some of you are starting to plan some spring time adventures in Healdsburg. Wine tasting, Beer tasting, Restaurant tastings, and Spa trips. Our Spa in Healdsburg is extremely exited about the possibility to cater to your Spa needs. We at the Camellia Inn have so many treatments for you to choose from, so below is an idea of what you can choose from at our Spa in Healdsburg.
Specials and Packages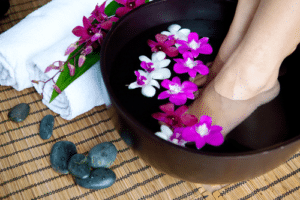 We want you to have a unique experience when you decide to plan a Spa in Healdsburg trip. We have an assortment of exceptional options for you that are second to none in our opinion. Let's take a look at what we offer.
If you love golf…
Our Spa in Healdsburg has a unique golfer's package for you. Stay at our Camellia Inn while receiving a 60-minute private lesson for two people from a local golf pro. You'll be able to play and practice at Tayman Park Golf Course, which is a few minutes from our Inn. Following a wonderful time golfing you'll be treated to a couples' massage with a licensed massage therapist in our Spa in Healdsburg
Babymoon Special
Another one of a kind Spa in Healdsburg package for you to select is the Babymoon special. We offer a special "Babymoon" package for moms-to-be! Our Babymoon special includes a pampering mother-to-be massage and chocolates to satisfy that craving. This package includes a special massage, chocolates, and a bottle of sparkling cider.
The Camellia Inn-Dulge Spa Package
One of the most popular Spa in Healdsburg packages amongst our guests is the Camellia Inn-Dulge special. Relax into a feast of the senses, celebrating the best of Sonoma Wine country. Kick back with our ultimate massage offering, dine out at one of Healdsburg's exceptional restaurants and enjoy a chauffeur-driven tour of wineries, including a private winery experience. This package includes Fresh Fruit, Cheese & Charcuterie Platter, a private Winery Experience. A Chauffeur Driven Car for a Day of Wine Tasting, a $100 Credit toward Dinner at a Select Healdsburg Restaurant, and you
We can help with that Breakup!
We all know that Breaking Up is Hard to Do, so this Spa in Healdsburg option for you is special. Breaking up is always hard but at the Camellia Inn we have put together a package that gives you a place to feel comfortable, relaxed, and will help you start moving on. This two night stay in one of our queen size rooms, offers a full breakfast each morning, evening wine and cheese tasting, a copy of a self-improvement break-up recovery book, one pint of Healdsburg's Downtown Bakery & Creamery Ice Cream (organic, all natural ingredients make this the best ice cream in the world), a voodoo doll with pins to write his/her name on. It's scientifically proven that exercise improves your mood and alleviates depression. Also included in this Spa in Healdsburg package is your choice of a one hour exercise class each day or a 60 minute massage in our spa, and a specially designed self-guided wine tasting tour.
A few dedicated Spa in Healdsburg Treatments
The Camellia Inn Spa in Healdsburg has you covered on the Packages and we also have you covered if you just want to enjoy a wonderful Spa Treatment. You can choose from a Relaxing Swedish Massage, A highly enjoyable Deep Tissue massage, A no-touch Reiki Massage, and a unique Mother to be massage. All these selections are with one of our Spa in Healdsburg trained therapists and will be catered to you and you alone. For all the details and pricing, click this Spa in Healdsburg link. https://camelliainn.com/the-spa/
The Camellia Inn Spa in Healdsburg is the perfect choice heading into Springtime!
It's been a long time since Sonoma County has had such a stressful and rainy season. With that said, there's no better time than now to get over that stress and get centered while relaxing into the Spring time season. A great way to do that is booking a Spa in Healdsburg package or massage. Our list above gives you an idea of how to obtain that relaxation. If you want more information about any of our treatments, please don't hesitate. Our staff is on call and ready to answer all your questions or concerns. We look forward to hearing from you and can't wait for the opportunity to get you into our Spa in Healdsburg. Contact us for more information.