About Us
A Sonoma County Bed and Breakfast Inn
The Camellia Inn, a Sonoma County Bed and Breakfast, is a peaceful place for your next visit to California's wine country. Set in the quiet charm of Healdsburg, our Sonoma County Bed and Breakfast features nine rooms that are beautifully appointed to make your stay comfortable and welcoming. You'll love our eclectic blend of antique furnishing, first-class mattresses and bedding, plus just enough modern technology, too. Traveling with a group? We also have vacation rentals suitable for traveling couples or small families. At the Camellia Inn, your comfort is our priority. You'll spend your days experiencing the beauty of Sonoma County, from wine tasting to hiking and golfing, you can relax comfortably when you return to the inn. Stroll the grounds and admire the 50 varieties of camellia plants that give the inn its name. Enjoy the villa-style swimming pool, or retire to your room and check the news on the iPad we've put there for you to use (we were the first Sonoma County Bed and Breakfast to offer this). High-quality mattresses and luxurious linens and duvets snuggle you in for a good night's sleep, and when you awake, a sumptuous inn-prepared breakfast waits for you!
A Sonoma County Bed and Breakfast
The Camellia Inn is a charming 1869 Italianate Victorian Inn in California's Wine Country where Old World vintage charm blends perfectly with modern luxury amenities to provide an affordable Healdsburg bed and breakfast Inn experience. Nine rooms and suites provide a choice of options including whirlpool tubs, in-room fireplaces, iPod docking clock radios, private sitting rooms and king or queen size beds. Luxury linens with 600-thread count feel, in-room iPads, cotton robes and chocolate are a few of the standard guest comforts provided. Evenings mean Sonoma County wine and cheese tasting in the elegant parlor or out by the flower-decked pool in warmer months. Breakfast is a seasonal selection of farmers market fresh egg dishes, fruits and bounty from the same earth that thrilled famed horticulturist Luther Burbank and still inspires Sonoma County winemakers.
Please note that our Sonoma County Bed and Breakfast has a two or three night minimum for most Saturdays and holiday periods.
Walking Distance to Historic Healdsburg Plaza
Surrounded by more than 50 varieties of its signature camellias, our Sonoma County Bed and Breakfast has been owned and operated by the same Wine Country family for more than 30-years. Constantly evolving to meet the needs of guests, the Inn recently became the first accommodation in Healdsburg to offer iPads to guests. Long established ties to the area, allow the innkeeping staff to arrange private by-appointment-only wine tasting and special experiences. Local taverns and the Bear Republic brew-pub are close to the historic Healdsburg town plaza where Zagat-rated restaurants, wine hospitality rooms, antique stores, art galleries and chic shops provide the best of Wine Country and in every season there are events and free concerts.
Surrounding Sonoma Wine Country
Surrounding the bed and breakfast inn are three renowned wine growing regions, the Dry Creek Valley, Alexander Valley and Russian River Valley and dozens of wine hospitality rooms for the areas premier wineries. Napa Valley, Sonoma Valley, the Russian River, the Pacific Ocean, Armstrong Redwoods and Mendocino are close enough for a daytrip.
Energy Conservation & Sustainability Our Way of Life
At the inn we're committed to energy conservation and sustainability and have been for as long as we've been in business. We've had solar water pre-heaters and a solar pool heater for more than 20 years. We use liquid soap in our rooms. We've recycled and composted for years. Our linens are 100% eco-friendly and recyclable.
Lucy Lewand, Owner and Innkeeper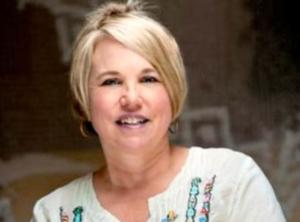 With more than 25 years of bed and breakfast experience, Lucy Lewand and her staff know how to make your stay in the Sonoma Wine Country a long remembered getaway. Lucy learned about Innkeeping from her parents Ray and Del Lewand who opened and ran the Inn, the first official Inn in Healdsburg, for many years.
"I am so lucky to live in heart of wine country. Besides hosting guests – I take ballroom dancing lessons, am a member of 2 book clubs ( gourmet potlucks), love movies and community activities. I've been lucky to travel the world with friends and family. Archie and I also host live Celtic music several times a year at the inn and in January/February put on a Robert Burns dinner!
I am also fortunate to have the best staff on the planet – my housekeepers have been with us for almost 30 years!! We are around most of the time but when we're out our innkeepers can help guests with whatever they need." -Lucy