"All vacations can come down to a few little moments – what do your remember when you're alone, totally relaxed and taken out of yourself to appreciate this other world." – Bill Kurtis
Right now, I'm sitting at the bar inside of Barley and Bine Beer café in Windsor, which is a short drive to the Camellia Inn. I just finished a great conversation with a customer named Aaron that's from North Carolina. He told me he's in town from North Carolina and visiting this area for the first time. I love when I meet people from out of the area and get to hear their stories. When Aaron asked me about where I'm from and what I did, he was intrigued when I brought up Healdsburg and the Camellia Inn. Aaron is here for the next few weeks and will be coming to the Camellia Inn for a tour of our bed and breakfast and a conversation about the many great things we offer. Here's a list of the things I'll be talking to Aaron about.
The Location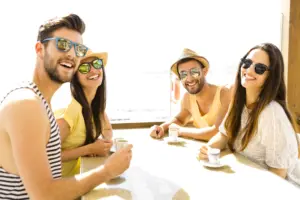 When Aaron and I start the tour of the Camellia Inn and we begin talking I'll start with our location. The Camellia Inn Bed and Breakfast is located just minutes from anything and everything. You can walk out of our front doors and begin your journey to delight in the many brilliant Healdsburg treats. If you like food, wine, spirits, art, music and so much more, then our Healdsburg Camellia Inn has you covered.
Room Accommodations
The next thing I'll talk to Aaron about is the rooms at our Camellia Inn Bed and Breakfast. I think we can all agree that when you are planning those vacations and then choosing a room to stay in, it's exciting. The anticipation of staying in a room that's not your own is fun. We at the Camellia Inn totally get this joy little joy. The rooms at the Camellia Inn are set up to make you feel like you are away but being as comfortable as if you were still in your own bedroom. Each of the nine, thoughtfully appointed guest rooms at the Inn features a private bath and all include a shower. Some rooms have whirlpool tubs for two. We also provide you with a complimentary wireless service, so you can get your work done or your family can save their minutes and stay up to date on all their social media needs. Head over to the following link to read more about our beautiful rooms at the Camellia Inn. https://camelliainn.com/lodging/
Camellia Spa Treatments
Another topic of discussion that Aaron and I will have is about our Spa. I'll let him know that the Camellia Inn has exceptional licensed massage therapists that are highly trained in many different modalities of treatments. Attentive and gracious, we're proud to say they're among the finest professionals in wine country. Our specials and packages will cater to just about anyone and will be unique to you alone or your partner. Below is a list of the Specials we offer at the Camellia Inn. Click on any of them to get the whole rundown.
Events all around!
There is so much to talk about with Aaron and there are plenty of events coming up that he or you should look into. The 4th of July is right around the corner so there will be plenty of red white and blue events and firework shows and overall celebrations to celebrate. Since Aaron will be here for the next few weeks, we'll point him in the direction to Windsor, where on the 3rd of July, they have their firework show celebration. On the 4th, over in Santa Rosa, their Red White and Boom music festival will be happening. And obviously, our Camellia Inn is close to a plethora of 4th of July food, music and fireworks. All in all, there is so much going on that Aaron will enjoy.
It's all in the details!
We think it's important for any of our guests to know that we at the Camellia Inn take pride in making every aspect of your stay with us, exactly what you want to get out of it. It's all in the details. From check in, to breakfast, to comfortability, to communication and so much more. I think that's why it's important to make friends with people like Aaron and you all, so you feel that confidence in us. We want you to feel like you are always one of our own and always welcome. So, for those of you wanting more information, please reach out. We are all here to help at any time. Cheers!