"I believe that for every illness or ailment known to man, that God has a plant out here that will heal it. We just need to keep discovering the properties for natural healing." — Vannoy Gentles Fite
We don't know if you believe in God like the author of this quote, but we believe that there are treasures in nature that can heal some of our ailments. The main truth we took from this quote is, we shouldn't close ourselves off to the possibility that there are so many undiscovered and discovered remedies for natural healing. Having an Aromatherapy massage is one of those discovered properties that promotes natural healing. We would love for you to continue reading this blog post so we can help you understand what Aromatherapy is, how an Aromatherapy Massage might help you recover, relax or rejuvenate your mind, body and soul.
What is Aromatherapy?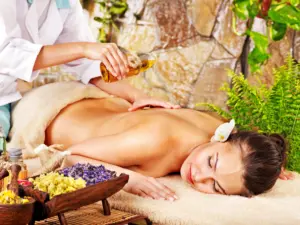 Before we dive into what an Aromatherapy Massage entails and the benefits, let's talk about what Aromatherapy is and where it derived from. The origin of Aromatherapy, according to the National Association for Holistic Aromatherapy is this, "It was the French perfumer and chemist, Rene- Maurice Gattefosse, who coined the term "aromatherapie" in 1937 with his publication of a book by that name. His book "Gattefosse's Aromatherapy" contains early clinical findings for utilizing essential oils for a range of physiological ailments. It seems vital to understand what Gattefosse's intention for coining the word was, as he clearly meant to distinguish the medicinal application of essential oils from their perfumery applications." What you should take from this NAHA excerpt is that Aromatherapy is achieving Holistic healing with essential oils through therapeutic medicinal use.
We know We Know you want to know the Benefits.
Of course, you want to know the benefits of an Aromatherapy Massage. Why else would you be here, right? The benefits of an Aromatherapy massage start with an open mind. We believe this is instrumental in the natural healing process. Not just with an Aromatherapy massage but any Spa Treatment in general. Opening your mind to the possibility that essential oils derived from plants or flowers is key to allowing your body to accept the healing process.
How Does an Aromatherapy Massage Work?
There are so many reasons why you might need an Aromatherapy massage treatment. Some of the most specific reasons why are due to stress, being extremely tired, overworked, achy, and sick. With these types of ailments, you won't want a massage that is a strenuous, deep tissue type of massage. An aromatherapy massage is perfect for you. The Aromatherapy massage wants to heal your body and mind through essential oils. You don't always need a massage to work out the kinks. But you need something to restore balance to yourself.
The Major Benefits of Aromatherapy Massage
There are many benefits that will come out of your Aromatherapy Massage, and there are those essential oils that can and will be used along with it. Here is a list of some of the ailments that can be helped through an Aromatherapy Massage and the oils that may be used
Relieves Stress
We all deal with some form of stress in our lives. We may not ever find a cure for it, but there is a way to reduce it and that's through an Aromatherapy massage. The essential oils used to reduce stress are lemon oil, lavender, bergamot, peppermint, clary sage, vetiver, and ylang-ylang essential oils
Acts as Antidepressant
Aromatherapy Massages are such an important way to help with depression. It has been studied that this type of massage with these following oils play a great part in helping those afflicted with this disease find natural healing. Those oils are, rose, chamomile, lavender, jasmine, nutmeg, lemon, bergamot, anise
Increases Energy Levels
We all could use a boost in energy so an Aromatherapy massage can be the answer. The best essential oils for giving yourself an energy boost include black pepper, eucalyptus, grapefruit, lemongrass, cardamom, cinnamon, clove, angelica, jasmine, tea tree, rosemary, and sage.
Reduces Headaches
Isn't one of the biggest issues most of us face an annoying or reoccurring headache? You never know when they are going to come or how excruciating they may be. But, using an Aromatherapy Massage with these essential oils will help reduce your headaches: eucalyptus, grapefruit, lemongrass, rosemary
Regulates Sleep
The oils than can be used during an Aromatherapy massage that can regulate sleep are Roman chamomile, clary sage, marjoram, patchouli
The Camellia Inn and an Aromatherapy Massage
Honestly, there are so many other ways that an Aromatherapy Massage can benefit you. We at the Camellia Inn strongly suggest you reach out to us and we'll put you in touch with our Massage Therapists. They are ready and eager to give you every bit of information you need about an Aromatherapy Massage. At the end of the day, the only goal with any of our massages or spa treatments is to help get your mind, body and soul working healthy together and healing in the most natural way. Contact us for more information.