"Going up north with the redwoods and driving along the coast, it's got everything, man. It's got the desert, the mountains, and the ocean. It's beautiful." Chad Smith
You bet big time bud! The Red Hot Chili Peppers drummer nailed it with this quote. We are so lucky to be surrounded by everything he listed and so much more. Our downtown Healdsburg bed and breakfast is about an hour and a half from the big city of San Francisco, a 20 minute drive to beautiful Lake Sonoma, and a hour ride to the brilliant Napa County. There is so much to do that surrounds our downtown Healdsburg location. Most of which is within walking distance, or just a short car ride. If you're a lover of Beer and Wine, then downtown Healdsburg has you covered. If you are looking for a place to dine with family, friends, or yourself, downtown Healdsburg is the perfect destination for you. This time of year might be the best time to come visit, the rain is almost ready to be just an after thought, while the sun and glorious spring weather is on the horizon. With all of this in mind, below is a list of some glorious events Healdsburg has coming up. Let's jump right on in!
Glorious Irises of Spring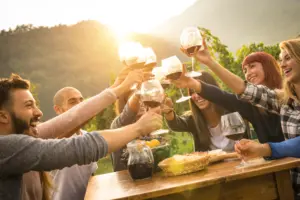 On Saturday April 13th and Sunday April 14th, heading to downtown Healdsburg has a real fun treat for you. Just when it's time for a little color in the garden, the irises begin their glorious spring show! Enjoy 150 varieties of these gorgeous beauties in full splendor, many of them world-class award winners, planted throughout the 650 roses in the Russian River Rose Company's garden. Drought tolerant and easy to grow, Jan calls them "Orchids You Can Drive On." The gorgeous "early blooming roses" will also be making their annual come-back appearance. Hundreds of irises and roses for sale in the nursery. Enjoy the irises on April 13 and 14, with special tours at 10 a.m. and 2 p.m. Nursery and Garden open 10 a.m. to 5 p.m. We promise you'll experience some real beauty and have some new pictures for your collection. Head over to the website to find out all the details for this great event. http://www.russian-river-rose.com/
Earth Day Tour at Alexander Valley Vineyards
The next event that we think you should look into attending is the Earth Day Tour at Alexander Valley Vineyards. On Saturday April 13th, you can head over to this winery which is 10 minutes from downtown Healdsburg to take celebrate Earth Day! Elebrate Earth Month at Alexander Valley Vineyards with a special tour hosted by owner Harry Wetzel. You'll get a behind the scenes look at the Wetzel Family's commitment to sustainability. The family motto has always been "use less and have more." Using that phrase as guidance, Harry Wetzel IV has taken the family commitment to sustainability to the next level and says quite simply, "it is the right thing to do.  Minimizing our impact on the environment is not only good for us, but it's healthy for everything around us as well." You can join Harry on April 13 for a tour of the property for an in depth discussion of the many components of sustainability practiced for decades along with tasting the wines resulting from that commitment. This 1.5 hour tour will look at the environmental, economic, and social elements of sustainability that have been implemented since 1962 at Alexander Valley Vineyards. Head over to their website to read more and to find out how to be a part of it. http://www.avvwine.com/
West Wines Easter Weekend Fun – Vineyard Walk and Quiz
Yep, Easter is right around the corner, so heading to downtown Healdsburg to celebrate is a fantastic idea. On Saturday, April 20, 2019 and Sunday, April 21, 2019 from 11:00am to 04:00pm take a short self-guided walk through the West Wines vineyard with questions about Sonoma nature, vineyards and wine (for adults), and Sonoma animals and plants (for kids). There will be Wine tasting, cheese and charcuteries for adults, and a jelly bean and apple juice pairing for the younger ones. This is one of those unique events that not everyone knows about, but those that do, well they know how much fun it is. West Wines is just a hop skip and a jump away from our downtown Healdsburg Inn, so you can go enjoy some wine, sun and fun and then head back to take a nap. Follow this link to find out more. http://www.westwines.com/best-sonoma-wine-events
Our Downtown Healdsburg Inn has you Covered!
Honestly, this time of year has Sonoma County all excited! With the weather starting to get better, the events are starting to get really enticing. Staying with us at our Camellia Inn in downtown Healdsburg will allow you to select any number of epic events. From Wine Tasting to Beer Tasting, from the exceptional restaurants to the exceptional beauty, downtown Healdsburg has you covered. If you'd like any more information about these events or if you'd like to inquire about anything else, please contact us at any time. This is just the start of what you can expect when you are deciding on your itineraries for you Spring or Summer getaways. Cheers!