"The early influences, in many ways, were in Baltimore. I was passing open windows where there might be a radio playing something funky. In the summertime, sometimes there'd be a man sitting on a step, playing an acoustic guitar, playing some kind of folk blues. The seed had been planted." – Jerry Leiber
This quote by the late musician and songwriter Jerry Leiber doesn't say that much about the topic of our blog post, but it caught our eye for a few reasons. The visual of a musician sitting on the stoop playing a guitar during the summer is the natural vibe that our town of Healdsburg can offer anyone. We live by the idea that you are a unique individual and can come here, be yourself and enjoy all of our unique businesses, people and sights. With that idea in mind, Healdsburg has several upcoming summer events for you to enjoy. Let's take a look.
Trivia Night at Bear Republic Brewing Co.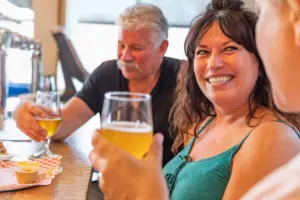 The first Healdsburg event we want to bring to your attention is happening on Wednesday June 12th. Do you like trivia? Well, if you do, and you're here on the 12th or any Wednesday for that matter head over to the Bear Republic Brewing Company. You'll be able to enjoy some delicious beers, such as their tasty Racer 5. Enjoy some great snacks, and have fun trying to win the trivia night. We promise you won't be disappointed. Click their website for more details or just to look at their wonderful beer menu. https://bearrepublic.com/healdsburg-brewpub-trivia-night-begins-april-25th/
Healdsburg Art, Food and Wine 2019 (AFW)
Another Healdsburg event we suggest you find a way to be a part of is on June 13th through June 15th. The Healdsburg community will play host to 3 days of various events that highlight the combination of visual arts, vintner arts and culinary arts. If you can't be present for all three days then we suggest you be a part of Saturday Night, June 15th. The evening begins with the Palette to Palate Art Walk of Healdsburg's Fine Art Galleries and concludes with the Grand Finale Cocktail Party at Aerena Gallery located on the Healdsburg Square. Aerena Gallery will feature the Bespoke Wine Collection "Art of the Label". Their library wines will be paired with savory hors d'oeuvres and a live music performance by Freddy Clarke. The event will start at 4 pm to 8:30 pm. For more information you can head over to the following website. We hope you can make it. www.healdsburgartfoodwine.com
45th Fitch Mountain Footrace
One Healdsburg event we always recommend is the Fitch Mountain Footrace. This is the 45th year of the race and it will be taking place on Sunday June 16th from 8 am until 10 am. This annual event will be Benefiting the Healdsburg Kiwanis Memorial Scholarship Fund. The purpose of this annual family event is to raise scholarship money to fund college scholarships for the local high school seniors. Each year over $10,000 in scholarships is awarded to local kids. This event not only benefits the students of our community, but it's also a great time for people to gather for some fun morning activities with the family. The run takes place in the Heart of Sonoma County's Wine Country; Healdsburg. Both the 10K and 3K courses begin and end at the Historic Healdsburg Downtown Plaza. Come and enjoy a day in the wine country with great restaurants, world class wineries, and the beautiful Russian River. The 10K course travels through quaint neighborhoods and then out around the challenging Fitch Mountain along the Russian River, finally ending back downtown. The 3K course is an in-town loop and is fairly flat; perfect for run/walkers, and families with young kids and/or dogs. You can click the following link to find out all information on how to be a part of this exceptional Healdsburg event.
So many Healdsburg events, and so much time!
We know the saying doesn't go like that, but the summer has just begun, and there is a ton of time to enjoy a ton of Healdsburg events. We didn't even cover the Father's Day Healdsburg events happening this Sunday because our town has so many throughout the week. If we have time, look out for a follow up blog post that will be detailing all the Sunday Father's Day Healdsburg Events. Right now though, we suggest you give us a call in order to book a stay for we are booking up quick these summer months. Or just call or contact us online and ask any questions that you might have. We are here to help in any way that we can. It's going to be a great summertime in the Sonoma County area. We know for a fact that there is an Healdsburg event for each and every one of you. Cheers and talk to you soon!