"In all my wanderings upon this earth I had never before traversed so Eden-like a vale as that between Santa Rosa and Mark West. It was nature's own park. Wild oats, clover and other indigenous grasses intermingled with a profusion of wildflowers of every shade and hue bedecked the broad expanse of plains…" — Former Petaluma Argus editor E.S. Lippitt in the 1800s
This quote encapsulates the very essence of what the Russian River community has been built upon. From Santa Rosa to our beautiful town of Healdsburg, the growth of Sonoma county has been beautiful. For over 100 years, the Russian River has been the summer playground for West Coast California.  Located just a short drive from the San Francisco area and Sacramento, visitors can explore the majestic redwoods, incredible wineries, fine dining and arts, eco-adventures, spa days, river activities and so much more in an incredibly beautiful, natural setting. Here you'll find places to stay, things to do, restaurants for farm-to-table dining, wineries and tasting rooms. For family holidays or LGBT travelers, a romantic escape or a friends' getaway, the Russian River is California's summer vacation destination. With all of this said, we'd like to share with you some of these event and destinations that you can do partake in when you stay with us at the Camellia Inn in Healdsburg.
Sonoma Lake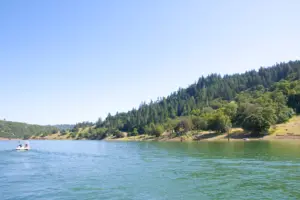 If you are into swimming, camping, hiking or boating then Lake Sonoma is perfect for you. Lake Sonoma isn't far from the Russian river and is a destination for those of you that want to experience something special. Lake Sonoma isn't just for people that want to dock their boats, but it's a place to go camping or hike in order to see some beautiful sights and experience the natural beauty of Sonoma County. Nestled in the beautiful coastal foothills of Sonoma County, California, Lake Sonoma is surrounded by world famous vineyards and land that is rich in history. Created by the construction of Warm Springs Dam in 1983, the lake provides for flood control, irrigation and recreation. When full, the lake has a surface area of more than 2,700 acres and 50 miles of shoreline, forming the perfect setting for a wealth of recreational activities. Lake Sonoma invites you to hike, swim, ride, boat, camp, fish, or hunt at their beautiful lake. https://www.sonomacounty.com/outdoor-activities/lake-sonoma-recreation-area
Adventures in Cycling and the Russian River
One local company that we highly recommend is Adventures in Cycling. Dave Brazell runs a boutique Napa-Sonoma County Cycling adventure. Adventures in cycling will customize your bike tour around any part of the Russian River area so that you can have the very best experience possible. You can choose a day bike tour, motorized bike tour or a multi-day bike tour. All their tours are packaged with fantastic views, engaging guides, a few great wine tasting stops, and some great food. Dave and the gang at Adventures in Cycling will customize your bike tour around your location. So, when you check into our Healdsbug b&b, you won't have to worry about anything. Dave will meet you at a location, so you can begin your bike tour. All you'll need to bring is a great attitude and be ready to have a fantastic time on your bike tour around the Russian River. Click the following link to learn more about what Adventure in Cycling has to offer. https://winecountrycyclingtours.com/
Russian River Brewing Company
If you love beer, then the Russian River Brewing Company is a place you should check out. They are becoming or have become a world-renowned brewery that specializes in exceptional beer. The Russian River Brewing Company has two locations, and both are unique and specialize in different food menus but stay true to the offerings of their exceptional beer. We suggest you take a tour of their new brewery in Windsor which is just a hop skip and a jump away from our Camellia Inn. It is a like going to Disneyland for anyone that wants to marvel in a carnival of brewery brilliance. You can click the following link to learn more about the fantastic Russian River Brewing Company. https://russianriverbrewing.com/
The Russian River and your future
Let's not kid ourselves, planning a trip to the Russian River area is a privilege in our minds. There is so much to do and so much to see and experience. The places and businesses we discussed here are only a few options of what you can sink your teeth into while staying with us at the Camellia Inn Bed and Breakfast in Healdsburg. The Russian River has so many other experiences that can be had that many of you have no idea about. Our staff at the Camellia Inn would love the opportunity to talk with you in order to point you in the direction to a Russian River destination for you to enjoy. Cheers!