"Once you replace negative thoughts with positive ones, you'll start having positive results." – Willie Nelson
I think we all can agree with Willie Nelson here. When it comes to our peace of mind, an ability to take care of ourselves is huge and that's why a B and B in Healdsburg getaway is a perfect option for you. Our Camellia Inn B and B in Healdsburg is perfect for you to disconnect from the rigors of everyday life and reconnect to your core.
Breakfast!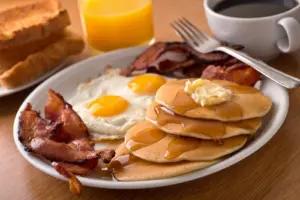 Oh, you bet big time buddy! Our b and b in Healdsburg has the breakfast lover covered. We've put a lot of thought into our breakfast at our bed and breakfast in Healdsburg California. Our Breakfast begins bright and early with the first pot of fresh roasted coffee being brewed at 7:15. At 8:30am, the dining room opens with fresh fruit, fruit juice smoothies, granola, your favorite breakfast cereals, yogurt, fresh baked bread from Costeaux's bakery, and perhaps another breakfast pastry. Our hot entrées of the day are on the sideboard (yes, exactly like you read about in old English mystery novels), and they vary from sweet one day to savory the next. If you are fortunate enough to be able to join us for breakfast on Chocolate Covered Wednesdays, there will also be chocolate on the menu. We are more than happy to accommodate your schedule with a breakfast to-go or a breakfast meal that caters to any food allergy or diet you are a part of.
Privacy!
The Camellia Inn B and B in Healdsburg is all about giving you what you want. If that means to let you do your thing and be on call, then that's exactly what we'll do. Our B and B in Healdsburg may not be your typical off the beaten path location because we are just a few minutes' walk from the downtown plaza, but you can still get the privacy and peace and quiet you desire. A B&B tends to be more exclusive and with fewer guests than a hotel. If you're looking for a place to spend a quiet weekend, a B&B could be that perfect option for you. Our b and b in Healdsburg will personalize your privacy so there's not a whole lot of interaction with us or the other guests, but we are always just a call away. If you want a private massage, then some of our room options will accommodate that. We offer those breakfasts to go, if you want to get out early and start your tours of the town. At the end of the day, it's about what you want, and a Bed and Breakfast in Healdsburg is ready to accommodate that.
Romance!
If you are looking to experience a romantic getaway with your sweetie, then staying at a B and B in Healdsburg is a great option. In fact, B&Bs have become so popular for couples that many cater to this romantic angle, offering special romantic packages. These may include pre-planned events or excursions that are included in your stay. Our Camellia Inn Bed and Breakfast in Healdsburg specializes in your romantic retreats.
A fun Option!
Our b and b in Healdsburg suggest a bike tour for those of you who want to be active during your stay. What's better than riding your bicycle on fantastic roads and the most picturesque settings? There are so many options for you if you want to go this route. Whether you're an experienced cyclist, casual rider, or a family with children, there are many itineraries for you to choose from. There's a ton of information online for you to check out. You can head on over to the Santa Rosa Cycling Club's website for some information on bike rentals and organized tours. A local company that we suggest you looking up is Adventures in Cycling. Dave Brazell runs a boutique Napa-Sonoma County Cycling adventure. Adventures in cycling will customize your bike tour so that you can have the very best experience possible. Don't hesitate to contact Dave, he loves our b and b in Healdsburg and will set you up for a terrific time.
The Camellia Inn B and B in Healdsburg has you covered!
The Camellia B and B in Healdsburg has covered every detail and has everything you need for any getaway you desire. Our location is just a few minutes from the Healdsburg plaza, so you don't even need a car, you can walk everywhere if that's what you want to do. Wineries surround us, top of the line restaurants surround us, epic scenery surrounds us, and our beer scene is second to none. Like we said, anything you desire, is here, and we can help you experience it all. Don't hesitate to contact us, so we can answer all your questions. Even if you end up staying somewhere else, we don't mind. Our community is strong and all of us want the best for you. We hope to hear from you soon!