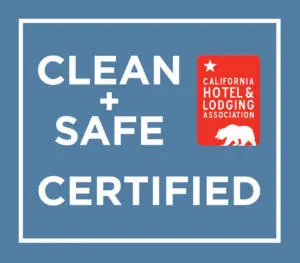 Camellia Inn staff is implementing an even more rigorous daily disinfection and cleaning routine as prescribed by the CDC in our public and private areas, you may smell some lingering cleaning products here and there. We have set-up common areas for best physical distancing practices. We understand your concerns and are grateful we have had no effects from the virus. We're thinking of everyone as we move through this worldwide disruption. Flexibility, safety and comfort are our primary focus. Contact us anytime!
We want to reach out and reassure our Camellia Inn family and friends of our increased measures to follow CDC guidelines and make your stay as comfortable and stress free as possible. Below you will find a list of practices that we are engaged in to best protect you, our guests, as well as our employees during this time of Covid-19.
Each of our employees have received training in extensive cleaning procedures, to include the frequent disinfecting of all common touch areas such as counters, doors, floors, lamps, light switches, tables, chairs, and couches, for example.
Each of our employees are required to submit a temperature check, wear a mask, gloves, and complete a Clean + Safe Checklist
We ask that guests wear face coverings when gathered with others and attempt to maintain 6 ft between them and others.
Each of our rooms are thoroughly cleaned and sanitized prior to guest arrival.
All surfaces, furniture, linens and amenities are sanitized.
Most of our rooms have private entrances and once your room is cleaned and prepared for you, no one enters the room prior to your arrival.
We will not be "servicing" rooms during your visit for the rest of 2021 but happy to offer fresh towels and amenities as needed daily.
All rooms and all public areas have gone under our strict enhanced deep cleaning and disinfection process as prescribed by the CDC.  We will continue this process daily as well.
Due to guidelines and disinfection cleaners, we are trying to implement a 24 hr time period prior to re-entry into the rooms as well.
We do appreciate you choosing us in this recovery time and are diligently working to make sure your time spent here with us at the Camellia Inn will be as stress free, comfortable, relaxing, and fun as possible.
County Variance Info
CHLA Clean + Safe Self-Certification Page
CHLA Covid-19 Clean + Safe Re-Opening Guidance
Update on the Covid-19 and Travel to Sonoma County
Not ready to travel? Help support small businesses such as our our own make it through this time by purchasing gift certificates for travel at a later time.