Autumn is one of the best times of year to come to the Camellia Inn, where the weather and the blooms are just a few of the great reasons to stay. The history never stops, and neither do all the fun things to do in Healdsburg California.
Experience Camellia Inn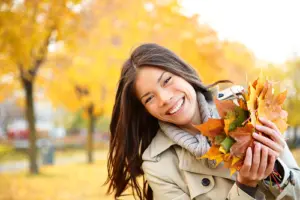 Spa treatment is especially fun during the fall, since it lets you relax a bit before all of the stresses that the end of the year brings on. At the Camellia Inn, you can have one of our licensed massage therapists come right to your room and deliver relaxation that will help all your cares melt away.
If you want to take a stroll, you will have plenty to see. Outside the Camellia Inn's 1869 Victorian building, there are more than 50 different kinds of camellia flowers to see. The area has been awash in diverse plant life since the Victorian era, when camellias were the most popular type of flower around. Professionals in the horticultural field Dr. Seawell and Luther Burbank worked in both researching and planting the Healdsburg gardens that are still well known, leaving a legacy you can still enjoy today.
Camellias have always stood for loveliness and excellence in the Language of Flowers. Since some camellias only bloom during the autumn, you will get to experience something different from what the snow birds and summer stayers get to see. If you have never stayed during the fall, the views alone are worth it, even though you might not want to take a dip in the pool if the temperature gets under 60.
Healdsburg is a great place to visit, even as the fall begins to succumb to the winter chill. Even in November, the temperature rarely gets below the mid 40s, and there are less than 7 days with rain. Clear skies and only a mild chill make visiting the Camellia Inn a wonderful respite for the near end of the year.
Healdsburg itself is an amazing place to visit, with a laid back culture that produces some of the finest wines in the country. Often voted one of the top 10 best small towns in the US, strolling and shopping in Healdsburg is a great way to spend time. The fact that the Camellia Inn provides you with a host of wine vouchers means you can sample a tremendous number of delicious libations that are all made locally. Contact us for more information.