Looking to experience the ultimate aromatherapy massage by adding one of our spa offerings to your stay at the Inn? We have just what you need!
An aromatherapy massage relaxes and purifies the body with natural fragrances and essential oils. Our licensed massage therapists are highly trained in a variety of massage techniques and can give you the pampering you deserve before hitting the local scene or after a busy day of sightseeing.
Benefits of Aromatherapy Massage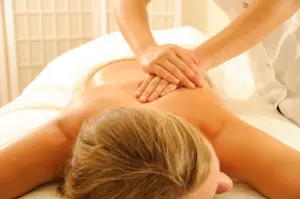 When combined with massage therapy designed to benefit the circulatory, lymphatic, nervous, and musculoskeletal systems, aromatherapy offers an additional level of relaxation and healing. The combination provides positive effects on your mind and body that linger long after the massage is complete.
When used according to professional recommendation, the essential oils used during an aromatherapy massage offer a host of benefits:
Improved healing of the mind and body through manipulation of your soft tissues.
Heightened relaxation achieved through inhalation of oil scents that calm emotions.
Mood enhancement, particularly with citrus scents.
Positive emotional health through scent-triggered positive memories and feelings.
Reduced inflammation through increased circulation brought about by invigorating and cooling essential oils such as peppermint.
There's an Essential Oil for That
Some of the most popular aromatherapy massage essential oils are bergamot, cedarwood, chamomile, eucalyptus, geranium, ginger, grapefruit, lemon, orange, patchouli, peppermint, sweet marjoram, and tea tree oil. Three favorites of our guests include:
Lavender. Along with peppermint and eucalyptus, lavender essential oil helps relieve muscle tension and headaches. It soothes the skin and is said to slow the progression of wrinkles. Prized for its relaxing qualities, it's also often used in bed linen sprays and pulse point applications.
Sage. The three types of sage oil, Spanish, common, and clary, offer unique relaxation benefits for anxiety and other mood disorders. Great for your skin, the sage oil scent also has a stimulating effect and is used to cleanse negativity from the air.
Mandarin. Sweet, clean, and vibrant all at once, this beautiful scent has an overall calming effect and is often used to address digestive problems. The oil can also be used on the skin and is used to treat acne.
The pampering solution you need could be right at the end of your nose! Talk to us about adding an aromatherapy massage treatment to your stay at the Inn. It's the perfect way to make your Healdsburg stay a more memorable and relaxing one.