"I love breakfast! Not only is it the most important meal of the day, but I loved waking up to – the smell of bacon in the morning was my favorite thing as a kid!" — Rachel Hollis
The smell of Sizzling bacon, fresh brewed coffee, Hot maple Syrup and so many more breakfast smells gets us all excited to dig in and fill our bellies. Fresh fruit, Orange Juice, Pancakes oh my! Scrambled Eggs, Sausage, Avocado Toast Oh My. Sorry, we went full breakfast Wizard of Oz mode right there. But breakfast is such an important meal and it can be had at any time of the day in our opinion. Our Healdsburg Breakfast at the Camellia Inn is obviously a great option for you when you stay with us. But the Healdsburg Breakfast scene is sensational, so we'd like to give you an idea of what that scene looks like.
Costeaux French Bakery & Café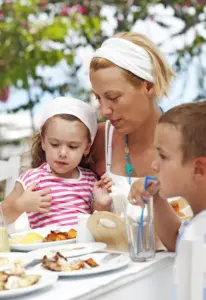 We can't start this breakfast list off without first talking about Costeaux French Bakery & Café. They are located on Healdsburg Ave, which is only a few minutes away from the Camellia Inn. Costeaux's is extremely popular here in Healdsburg. Their reach goes even deeper with their exceptional breads and pastries being delivered to many other restaurants and businesses all throughout Sonoma County. This Healdsburg Breakfast staple has menu items from Omelette's, to Avocado toast, to Monte Cristo Sandwiches, to so many other delicious options. We highly recommend this Healdsburg breakfast staple when you come to our beautiful town. Head over to their website so you can look their entire menu over. http://www.costeaux.com/
Skillets Cafe
Okay, so this restaurant isn't a Healdsburg Breakfast choice, but it's only a ten-minute drive away. Skillets is located in Windsor, which is just South of Healdsburg. We've eaten there a handful of times and many of our guests have as well. From the Garden Skillet, to the Country Skillet, to The Mexican Skillet, to breakfast sandwiches and Omelettes, Skillet's Café has you covered. It's not a Healdsburg Breakfast location but it is a solid option for you and your family to enjoy. Don't hesitate to head to Windsor to enjoy Skillets Café. They don't have a website, but they open at 6am every morning and close by 3pm. Head over there, you won't be disappointed. 
Ana's Café and Espresso
Another great Healdsburg Breakfast place to go to is Ana's Café and Espresso. Honestly, their breakfast menu isn't extravagant, but it's delicious. Their breakfast burritos are exceptional as are their breakfast sandwiches. The coffee and espresso drinks shouldn't be ignored. Ana's Café and Espresso will treat you right and get you back on the road quicker than most other restaurants. This Healdsburg Breakfast business doesn't have a website, but they open at 5 am everyday but on Sunday they are closed. Check this Healdsburg Breakfast spot out, it's a little gem!
The Brass Rabbit
The next Healdsburg Breakfast spot we want to tell you about is The Brass Rabbit. This Healdsburg spot is open everyday from 5pm to 9pm. But on Saturday and Sunday they open their kitchen up at 9 am for an exceptional Brunch menu. This menu is filled with items like Avocado Toast, Brioche French Toast, Spring Vegetable Frittata, Benedict, a simple Two egg breakfast and a plethora of other choices for you. Everything on the Brass Rabbit's Healdsburg Breakfast menu is reasonably priced and presented beautifully. If you have a free weekend coming up, we suggest you come stay with us at the Camellia Inn and walk over to The Brass Rabbit for an inviting and filling Healdsburg Breakfast experience. If you'd like to know more about the Brass Rabbit, click the following link. https://thebrassrabbithealdsburg.com/
The Parish Café 
The final Healdsburg Breakfast restaurant we want to bring to your attention is the New Orleans inspired Parish Café. This is one of Healdsburg's best breakfast joints because everything you can imagine about New Orleans cuisine is brought to life at The Parish Café. They serve hand-made beignets that are rolled out fresh when ordered and quickly deep-fried and smothered in powdered sugar. The chef has a handful of Louisiana styled breakfast meals that include Eggs Nouvelle Orleans. This includes a generous amount of poached eggs, mounds of sweet blue crab meat, silky house-made hollandaise and a scattering of shallots on crisp buttered French bread. This is just a small sample size of what to expect at the Parish Café. Head over to the following website to look their menu over. http://theparishcafe.com/home/healdsburg/
You, us and the Healdsburg Breakfast Scene
We don't always use the new forms of expression well, but I think we all can agree that the Healdsburg Breakfast scene is Fire!!! This is a nice list of breakfast restaurants for you to investigate when you visit Healdsburg, or you stay with us at the Camellia Inn. If you love breakfast, we promise these are some perfect places to satisfy that love. Contact us at any time for any information about these spots. We are happy to point you in the right direction. Cheers!