As anyone staying in a b&b healdsburg ca could tell you, wine country is about a lot more than just wine. There are all kinds of great activities you can get into. Even though the Golden Gate Bridge in San Francisco is only 90 minutes away driving, there is a lot to marvel at even in this fairly small town.
Places to Visit When Yous Stay at Our B&B Healdsburg CA
A Tasty Start to Your Day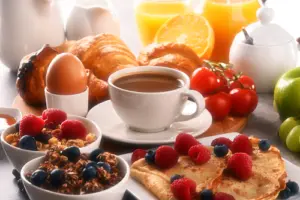 Early in the day, one of the best things you can do after waking up in your b&b healdsburg ca is to pop down to the Costeaux French Bakery for some bistro cuisine. Once you've had your fill, you have some options to begin digesting your meal, such as strolling through what Travel+Leisure Magazine voted among the top town squares in the entire country.
Fun in Town
Staying in your b&b healdsburg ca isn't the whole reason you came here, so heading out is worth the time. If you want to get out of the mid day sun for awhile, you can check out plenty of boutiques in the Mill Street Antiques Plaza, across 15,000 square feet of retail space. You can wait until the sun gets a bit lower in the sky while looking through knickknacks at the Antique Harvest, and still get your steps in.
If you are feeling like seeing something produced a bit more recently, there are two dozen art galleries within a reasonable walk of the plaza. Whether you want to see something by local artists, or something done in a traditional local style, you have a number of options. As evening comes on, you can remember that this entire area is called wine country for a reason. Wine Country Walking Tours let you dine and sip. If you are less hungry, the Let's Go Wine Walk lets you sample different local wines for three whole hours.
Heading Out for Awhile
If you are less interested in city life, you can find a lot to enjoy outside of town. Go for a long nature stroll, a run if you feel up to it, or hop on a mountain bike through Healdsburg Ridge Open Space Preserve. Spoke Folk Cyclery and Wine Country Bikes are great places to get the perfect two wheeled steed. Just make sure to stay hydrated and take enough breaks to avoid getting overheated, as the temperatures rarely get lower than 40 degrees even in the winter. Contact us for more information.