With its quaint downtown and gorgeous countryside, Healdsburg is one of the most picturesque spots in all of California. It's a perfect get-away destination with tons to do. Along with fine restaurants and unique shops, there's wine and beer tasting, cycling, bocce games, hiking, canoeing, golfing, and more.
All that activity can be loads of fun, but sometimes you just want a good old-fashioned pampering experience!
In-Room Therapeutic Massage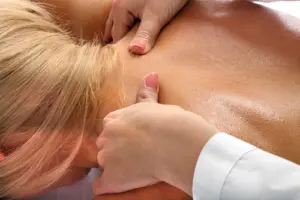 Whether you're all shopped out or have spent the day sampling Healdsburg's outdoor recreational options, an exclusive in-room therapeutic massage offers the rest, rejuvenation, and relaxation you're craving.
Therapeutic treatments from highly trained, licensed massage therapists are a wonderful complement to enhance your stay at the inn. In addition to back, neck, and full-body massages, you can add on additional treatments like:
Reflexology foot and head massages that stimulate pressure points to reduce stress and tension throughout your body.
CBD oil infused treatments to calm inflammation, reduce chronic pain, and melt away tension.
Scalp massages to relax your mind and relieve tight muscles in the neck and temple regions.
All of these soothing and relaxing massage techniques are designed to promote a wonderful feeling of well-being.
Need a treatment that's a little more intense? Sports massages are perfect for alleviating tightness and muscle contractions while enhancing flexibility and increasing circulation. For major workout enthusiasts, a deep tissue massage tends to those inner layers of muscles and connective tissues, increases blood flow, and reduces inflammation.
Massage Done Your Way
You deserve to take some time for yourself! Therapeutic massage is a deeply restorative body treatment that also has the power to calm your mind and soothe your soul. It's the perfect way to make your stay in Healdsburg a more memorable one.
Learn more about how to put the "leisure" in travel and leisure by talking to one of our staff today about booking an in-room therapeutic massage. Already know the massage you prefer? You can also book online.