"You have to love a nation that celebrates its independence every July 4th, not with a parade of guns, tanks, and soldiers who file by the White House in a show of strength and muscle, but with family picnics where kids throw Frisbees, the potato salad gets iffy, and the flies die from happiness. You may think you have overeaten, but it is patriotism." – Erma Bombeck
Oh, you bet big time buddy! This quote says it all. Eat, party, watch fireworks, drink, eat more, listen to music, laugh, eat even more haha. These are all 4th of July rights of passage and everyone gets to take part if you want to. There are so many places to go within the next week to celebrate this fun Holiday. So, if you do want to take part in the 4th of July celebrations, then keep reading below. We want to point you in the right direction to events in Healdsburg.
Events in Healdsburg You Can Enjoy
2019 Windsor Kaboom! Fireworks Show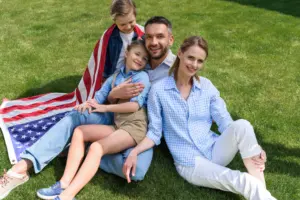 If you want to start this July Holiday off a day early, then we suggest you get to Windsor's Keiser Park on the 3rd of July. They have a yearly celebration that day with so much to enjoy. Join the Town of Windsor and the Active 20-30 Club to celebrate the nation's Independence Day.
There will be musical performances from the Scotty Mac Country Band, The Pat Jordan Band and MC Dano from Froggy 92.9. There will be so much great food and a ton of fun to be had for your entire family. Also, it's the fireworks event you don't want to miss! Combine all that with the fact that this is all for the kids! This year, not only are the fireworks a great event for kids of all ages, but a portion of ticket and drink sales will directly benefit local children's programs in partnership with the Active 20-30 Club. Head over to the following website to find out the event schedule and how to purchase tickets. https://www.eventbrite.com/e/2019-windsor-kaboom-fireworks-show-tickets-63443589484/amp
July 4th Community Celebration
Well here we go! Now that Windsor kicked off the celebration shenanigans on July 3rd, you can continue the fun events in Healdsburg starting at 10:00 am. It's the 8th Annual July 4th Community Celebration, Kids' Parade and Duck Dash races in the historic Healdsburg Plaza. The party is FREE and includes a Kids Parade of patriotically costumed children riding decorated bicycles, tricycles, strollers, and wagons. Also included are free hot dogs, apple pie, ice cream, snow cones, popcorn, churros and coffee. Registration for the parade begins at 10 AM, with the parade following promptly at 11 AM.
Come early to ensure that you are registered for the parade in order to be eligible for prizes. Face painting, Duck decorating and racing, and a foot race around the Plaza are just some of the activities to keep you entertained and to create lasting memories of the day. Free performances by the Healdsburg Community Band and the Russian River Ramblers. If you need any more information, then click the following link. https://rotaryclubofhealdsburgsunrise.org/
4th of July Elephant Music Festival
A new event happening on the 4th of July in Healdsburg is the Elephant Music Festival. Taking place at the Elephant in the room and partnering with Coyote Sonoma, this intriguing event will display 6 incredible bands who will be playing throughout the day. The first band starts at 3pm with the last band going on at 11. Coyote Sonoma will provide a FREE all ages environment and local band Burnside from 5-8pm. There will be food for sale as well provided by pop up vendors. Artesian pizzas and other delicious selections at Coyote Den.
Tickets are $20 for an all-day wristband. On sale now at Elephant in the Room. This promises to be the value of the summer, with soon to be legends performing at such an intimate setting. These are fast rising stars gracing our presence. Head over to the following website to learn about the bands that will be playing and any other pertinent information. https://allevents.in/mobile/amp-event.php?event_id=200017530677026
Healdsburg's 4
th
of July Fireworks Show
Our Healdsburg fireworks show is a great time. Our community really comes together on this fun patriotic day and is capped off with a beautiful firework show. From 9pm-10pm at the Healdsburg High School football field you can come hang out with us, snack and enjoy the show. Bring a blanket or sweater because it can get cold. 
Let the Good Times Roll!
There's so much to celebrate over the next few days including the Red, White and Boom happening at the Santa Rosa Fairgrounds. That's a fun time as well. Whatever you decide to do, if you need a place to hang your hat, we at the Camellia Inn have you covered. Reach out now to book your 4th of July stay. We are walking distance or a short drive to all the festivities. Cheers and Happy 4th of July!