"The worst thing about Halloween is, of course, candy corn. It's unbelievable to me. Candy corn is the only candy in the history of America that's never been advertised. And there's a reason. All of the candy corn that was ever made was made in 1911. And so, since nobody eats that stuff, every year there's a ton of it left over." — Lewis Black
We wanted to start this post off with some humor. When we came across this joke from Lewis Black, we laughed and laughed. Candy corn has been around for so long and it's a staple of the season. From the leaves falling to the nights turning cold, to our kids getting all excited to build their own costumes or head to a store to buy one. The Halloween joy engulfs us all because it's the start of so much laughter and fun that is yet to come. Whether you are planning a trip from out of town, or you are a Sonoma County local, then we have a treat for you. Downtown Healdsburg has so much for you to be a part of this Halloween. Here are some of those Halloween Events in downtown Healdsburg to be on the look out for.
34th annual Pumpkin Festival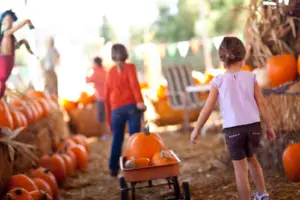 Ain't no thang but a pumpkin thing. Sorry, just felt like that was the right time to say that. Anyway, on Saturday October 27th from 8:30 am to 12:00 pm, head over to the Healdsburg Farmers' Market on the corner of Vine Street and North Street for the Healdsburg Farmers' Market's 34th annual Pumpkin Festival. This downtown Healdsburg event combines carving skills, pumpkin decoration, racing abilities, a costume contest to win market bucks, and great prizes donated by local businesses. Contests begin at 8:30am and continue throughout the morning. There is so much more information that this downtown Healdsburg Pumpkin Festival has for you. Please head over to their website to find out more. This 34th annual Halloween event in downtown Healdsburg is so much fun. Please, don't miss out. http://www.healdsburgfarmersmarket.org/pumpkin-festival-2018/
Safari West Halloween Spooktacular
Alright folks, if you want to venture outside of downtown Healdsburg for a Halloween event this weekend then the Safari West Halloween Spooktacular might be perfect for you. This event starts at 10am with Safari Treks departing every 45 minutes! Barbeque Lunch from 11:30 am until 2:00 pm and the conservation pumpkin patch all should get you excited. And let's not forget the Vultures, Snakes, and Owls! Oh My! Safari West is just a short trek away from downtown Healdsburg. Here is their website so you can purchase tickets and find out all other information for this fun event. https://safariwest.rezgo.com/details/105343/halloween
Día de los Muertos
I think we should get serious for a second, the animated movie Coco was a masterpiece in our opinion. It educated so many people, not just children, about a real event. We all, in downtown Healdsburg, are happy to tell you about this downtown Healdsburg event happening on Sunday October 28th from 12 pm until 7 pm. Corazón Healdsburg and the City of Healdsburg have put together a celebration weekend carrying out the traditions of the Mexican holiday, Día de los Muertos, The Day of the Dead.  All are invited to this family-focused, community-engaging and cross-cultural weekend. This event is in the downtown Healdsburg plaza so there's no reason to check out a website. Come on out and be a part of an exceptional Mexican tradition.
Downtown Healdsburg Trick or Treat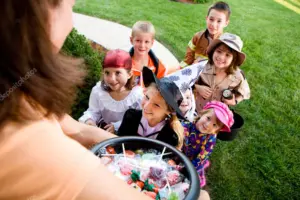 We know that your children love going from house to house with their pillow cases or pumpkin containers to gather as much candy as humanly possible. With that in mind, how about the idea of getting that started before it gets dark. Many downtown Healdsburg businesses will hand out candy starting at 4pm. This candy appetizer will last until 6 pm. We think this is a great idea to get on your kid's good side if you may be in the dog house. They can get candy at one of the businesses you may want to visit as well. We think it's a win win. There's no website to visit, just head to downtown Healdsburg between 4pm and 6pm on Wednesday October 31st.
Halloween time in Downtown Healdsburg
I think we all can agree that Halloween is the start of so much celebration. The Holiday season is upon us, and we at the Camellia Inn Bed and Breakfast in downtown Healdsburg are so excited. These are just a few events happening. There are so many more that you can find throughout the Sonoma County area. If you'd like to stay with us during this Halloween time, please contact us now. We book up quick, so don't hesitate to call. Happy Halloween from all of us at the Camellia Inn.