Staying at our Camellia Inn, located in downtown Healdsburg, is great for so many reasons. Whether it's the business traveler needing nice easily accessible accommodations, or a family who wants a comfortable stay, or a romantic getaway for the couple who wants that serene setting and to be pampered a bit. All these reasons and many more, are why the Camellia Inn Bed and Breakfast in downtown Healdsburg is and has been the choice for so many of our wonderful guests.
We understand that choosing what to do after you've decided to hang your hat with us at the Camellia Inn Bed and Breakfast can be a little overwhelming. Some of our guests love the idea of staying with us with no plan, and just head out and experience what downtown Healdsburg is all about. Other guests love the itinerary. They love having their trip mapped out. Whatever decision you make, we support. The purpose of this post is to let you in on a few secret gems that are either in or near downtown Healdsburg. We hope you enjoy and please feel free to contact us at any time to book your stay with us or to ask us any questions that may arise.
We are in the center of it all…
Skydiving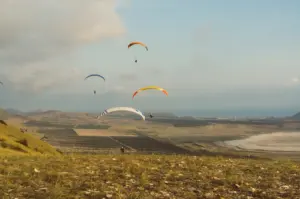 We thought it'd be a great idea to start this list off with a little adventure. If you're into skydiving than NorCal Skydiving is the right choice here. Located in Cloverdale, which is about a 20-minute drive from downtown Healdsburg, NorCal Skydiving will cater to your every need. They have been rated as one of the very best drop zones in all of California. You'll take off from the Cloverdale Municipal Airport and drop from the sky while witnessing the Pacific Ocean, Mount Shasta, vineyards and so many more beautiful settings.
Healdsburg History
For the explorer in you, tucked between the streets of downtown Healdsburg is a handful of old-fashioned alleys well-marked by street signs. Walking them will send you back to the town's founding in 1867. These alleys were created as narrow frontages for barns, stables and carriage houses. The alleys today are quiet, tree-lined lanes. A few of these alleys are now garages and studios but back in the day they were historical barns.
Beer anyone??
Sonoma County isn't just about wine anymore! The beer scene in our county has become a beer connoisseurs dream. From Micro-pubs to breweries, downtown Healdsburg is near it all.
A five-minute walk from the Camellia Inn is the Bear Republic. From their well-known Racer Five IPA to some high quality sour beers, and to a delicious lunch and dinner menu, Bear Republic is a great stop for anyone who enjoys a great time.
If you are staying in downtown Healdsburg in early February, the Russian River Brewing Company, located in Santa Rosa, California releases their world famous Pliny the Younger. For two weeks, people from all over the world flock to Sonoma County to wait in line for up to 8 hours to get a taste of the once a year release of this tasty triple IPA. The rest of their beer list is excellent, and their food menu consists of so many delicious Pizza's, salads and snacks. Russian River Brewing company is a treat any time of year.
If you want to head a little farther south of downtown Healdsburg to wet that beer whistle of yours, you'll end up in Petaluma, California. This is where Lagunitas Brewing Company resides. If you're planning a stay at the Camellia Inn, Lagunitas is a great stop anytime of year, but especially during the summer. Great beer and great food, but the live music in their beer garden is extremely enticing.= during those warm summer months.
Eat your Hearts out
Howard Station Cafe, located in Occidental, is about a 40-minute Drive from downtown Healdsburg. But it's worth it! The peaceful and picturesque drive will set the tone for you and your pet! Howard Station is pet-friendly and has a unique pet-only menu. Howard Station Café has an excellent menu for you as well. We suggest a huge Hot chocolate and a homemade biscuit. Honestly, you'll be full for a week. So many other great choices for you here. We can't stress how wonderful this place is for breakfast or lunch.
We are a little bias toward this downtown Healdsburg gem! The Healdsburg Bar and Grill is 3 minutes from our front door and will provide you with one of the very best Burgers in all of Sonoma County. Eat, Drink, laugh and enjoy. This gem is a must during your stay.
Downtown Healdsburg
We love making lists like this because it helps us remember why Sonoma County is so alluring to all types of travelers. Staying with us at Camellia Inn in downtown Healdsburg allows you the accessibility to experience whatever you want. You can get wrapped in our history, the Beer, the food, or the excursions. We know you'll have a great experience with whatever you choose. Please contact us, so we can help plan your next trip and stay in downtown Healdsburg California.