"It's funny what memory does, isn't it? My favorite holiday tradition might not have happened more than once or twice. But because it is such a good memory, so encapsulating of everything I love about the holidays, in my mind it happened every year. Without fail." — Molly O'Keefe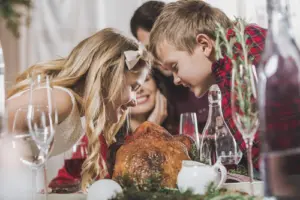 This quote makes us at the Camellia Inn feel so much warmth in our souls because one memory can indeed last a lifetime. Whether it's the food, family, friends, snow, or mistletoe, the Holidays will allow all of us to experience something that we can all put in our memory banks. Therefore, we want to bring to your attention these upcoming events in Healdsburg. We want you to have the opportunity to plan a trip during this Holiday season to experience new lasting remembrances.
Holiday Window Decorating Contest
One of our favorite events in Healdsburg during the Holidays starts this Friday November 23rd. This is one of those free events in Healdsburg where Businesses have decked their windows with gifts and holiday cheer. This Holiday Window Decorating Contest brings out the best spirit of all who take part in it. You the viewing public will determine the winner. Voting starts November 23rd and ends December 24th. Last year's winner was Thumbprint Cellars. Head to downtown Healdsburg to vote and experience the joys of the Holiday season.
Bubbles & Oysters
Did reading Bubbles and Oysters already lock you in for this event in Healdsburg happening on Friday November 23rd from 11 am until 4 pm? If it did, you are in for an exceptional time. Join others who love a great time over at the cellar at Amphora Winery. You will help kick-off this holiday season in style. Sip a glass of their exceptionally dry Blanc de Blancs while slurping down freshly shucked or grilled oysters. If oysters aren't your thing, house-made clam chowder is also on the menu. Oysters, clam chowder and our sparkling, red and white wine (by the glass and bottle) are all available to purchase a la carte. If you want to postpone the turkey sandwiches the day after Thanksgiving, go enjoy some Bubbles and Oysters. Head over to the Amphora Winery website to get all the details for another one of the best events in Healdsburg. http://www.amphorawines.com
Wrap for Paws
Starting on Saturday November 24th and lasting until December 23rd, you can take part in one of the community's important events in Healdsburg. Head on down to Matheson street and bring your families and pets. You can get your gifts wrapped while donating to a wonderful cause, the Humane Society of Sonoma County. Get your picture taken with Santa as well. Honestly, it's a win-win for all who take advantage of this events in Healdsburg staple of the season.
Annual Holiday Open House at Elements
Events in Healdsburg are happening pretty much every day during the Holiday season. The next event we'd like to tell you about is on Thursday November 29, 2018 from 4:30 PM to 7:00 PM. Grab your friends and come join the fun! Join Elements on Plaza for an evening of shopping and fun. Aperture Cellars will be pouring their fabulous wine and there will be tasty snacks as well. What's more, we have a great line-up of fabulous deals that are sure to get you in the Holiday mood, too. You're sure to find some great gift ideas for everyone on your list and some special treats for yourself as well! Take a look at some of the deals for this event in Healdsburg:
20% off all regular retail purchases
Fantastic Gift Card promotion
20% off appointments booked during the Open House for any time between then and January 31st, 2019
Preview fantastic new products from Coco La Vie Home Fragrance & Apothecary, FarmHouse Fresh and GradeLash
Free swag bag and a $10 gift card for the first 50 people to arrive
Tips & product information from Image Skincare Educator Jacqueline Scott
Caring Santa
Okay, we've made it to one of the first events in Healdsburg happening in the month of December. It's called Caring Santa. You can head on down to the Santa Rosa Plaza, which is only a 15-minute drive from downtown Healdsburg for a private photo experience for children with special needs and their families. Children will have the opportunity to visit with Santa and have their photo taken with him. Santa Rosa Plaza will make necessary adjustments to the environment to support the sensory, physical and other developmental needs of children of all abilities for this special event. This events in Healdsburg Link is: https://www.eventbrite.com/e/caring-santa-tickets-51306102935?aff=ebdssbdestsearch
Events in Healdsburg and the Camellia Inn
There are so many upcoming events in Healdsburg to talk about. These ae just a handful we think you can enjoy over this thanksgiving weekend and into the first week of December. The events in Healdsburg happening in December is plentiful. Check back in with us at the Camellia Inn for all upcoming events in Healdsburg, or to book your stay. We look forward to hearing from you. Happy Holidays!