"If I make the mistake of eating breakfast, I want to go back to bed and/or eat again immediately."   –Stephen J. Dubner
Isn't this the truth. The great thing about a bed and breakfast in Healdsburg is that eating breakfast and then wanting more is available to you. Eat all you want, we don't care, we encourage it! We believe in supporting our local farmers, ranchers, and local businesses, and do so whenever possible when crafting our Healdsburg breakfast for our guests.  Breakfast ingredients are locally-sourced, organic and sustainable, in-season and "right off the farm" fresh. If you've never had an egg that wasn't shipped to a grocery store from far away, eating breakfast at the Camellia Inn will be a revelation. Our eggs come from local hens that are well treated, and they're delivered fresh daily. Breakfast is a major part of our bed and breakfast in Healdsburg experience, but there is so much more that's available to you when you stay at our bed and breakfast in Healdsburg.
Our Comfy Rooms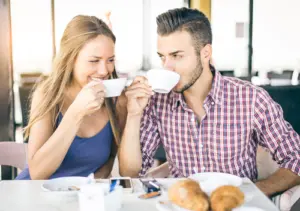 The Camellia Inn bed and breakfast in Healdsburg isn't the only option for you. There are a handful of other places to stay, but we want you to understand that we should be on the top of your list if you are looking to stay in a room that's as comfortable as your own bedroom. The Inn is within walking distance to Healdsburg's downtown Plaza, and to the many award-winning restaurants and tasting rooms, making it the perfect Sonoma County accommodations for your next stay to the area. Each of the nine, thoughtfully appointed guest rooms at the Inn features a private bath and all include a shower. Some rooms have whirlpool tubs for two. We also provide you with a complimentary wireless service, so you can get your work done or your family can save their minutes and stay up to date on all their social media needs. Below is a list of our bed and breakfast in Healdsburg room accommodations. You can click on any of them to get all the details.
Inn Rooms:
Vacation Rentals:
Heron House (three miles from the inn)
Cypress House (two blocks from the inn)
Cypress Studio (two blocks from the inn)
Our Bed and Breakfast in Healdsburg Spa Treatments
So, we've covered the bed part of our bed and breakfast in Healdsburg options for you and will talk about the breakfast part shortly. We want to introduce you to the spectacular spa treatment options that are available to you if your stay with us at our bed and breakfast in Healdsburg. Our licensed massage therapists are highly trained in many different modalities of treatments. Attentive and gracious, we're proud to say they're among the finest professionals in wine country. This is just a list of the treatments and you can click on any of them to read about all of their unique details.
Reflexology Foot & Head Massage
All of these treatments at our bed and breakfast in Healdsburg are fantastic, and we believe once finished, you'll feel exceptional. We also offer specials and packages that you can plan your trips around. Click this specials and packages link to get all that information.
More about our Breakfast
We don't want to leave you hanging with that brief introduction to what we offer at our bed and breakfast in Healdsburg breakfast options. There's so much more we do and will cater to all your needs. Although Healdsburg and Sonoma County are known for producing renowned wines, many people don't know that the terroir (taste of the earth) that is essential to producing those award-winning grapes is also responsible for our amazing agricultural bounty. Not only are fabulous grapes produced here but so much more comes from the soil, the individual farmers and a dedication to sustainability and producing the very best.  That best is on display in the wonderful Healdsburg breakfast we craft for guests.
We start brewing coffee at 7:15 am at our bed and breakfast in Healdsburg. At 8:30am, the dining room opens with fresh fruit, fruit juice smoothies, granola, your favorite breakfast cereals, yogurt, fresh baked bread from Costeaux's bakery, and perhaps another breakfast pastry. Our hot entrées of the day are on the sideboard (yes, exactly like you read about in old English mystery novels), and they vary from sweet one day to savory the next. If you must be somewhere before we start serving food, we are happy to put together a package to go for you. We don't want you to miss out on anything. If you have a specific diet or food allergy you need us to pay attention to, let us know in advance and our cooks will put together something that you can enjoy.
Let's get you booked at our Bed and Breakfast in Healdsburg
There's not a second to waste my friends! We want you to stay with us at the Camellia Inn Bed and Breakfast in Healdsburg. Contact us with any questions, or any other accommodation needs you want to discuss. We book quickly, so there's no better time than now to get your plans in order.