In 2017, nearby Santa Rosa was named the Microbrew Capital of the U.S. Before the farms of Healdsburg were covered in vineyards, they were known for their hops. From the 1850s to the 1950s, hops were one of the areas top cash crops. It was hops, not wine, that first established Sonoma County as an agricultural powerhouse. Back in the day hops were dried in huge hop kilns and then baled and shipped all over but especially to the East Coast. The first hops were planted here in 1858 with rootstock from Germany. Migrant families came by wagon every year to pick the hops. While it was work, it was also for many a mini-vacation as they enjoyed camping, swimming and relaxing along the Russian River after a day in the hop fields.
Traditionally, and currently, the one thing that has remained the same in Sonoma County Wine Country – it takes a lot of beer to make great wine. It's beer that is the beverage of choice at harvest time no matter what the crop. So, it was really foreordained that Sonoma County would become a beer powerhouse location. Although wine is why many people come to Healdsburg and Sonoma County, local beer is becoming a more-and-more popular reason for people visit. Every February, beer aficionados from all over the world make an annual pilgrimage here, to stand in line, sometimes for as long as 17-hours and occasionally in the pouring rain, to be first to buy a glass of the Russian River Brewery's Pliny the Younger. A beer that is consistently voted among the top six in the world on beer ranking websites.
Sonoma County is now one of the world's beer capitals. The artisan beer industry started here in 1976 with New Albion Brewing Co., regarded by many as the first craft brewery of the present era. The county is home to legendary brewers including Moonlight Brewing Co. One of the nation's largest craft brewers is Lagunitas Brewing Co. in Petaluma and a regional powerhouse is the Bear Republic Brewing Co. in Healdsburg.
There are more than 30 breweries in the region. Below are the breweries, beer gardens taprooms, beer dedicated retail stores and notable others on Camellia Inn's Beer & Brewery Tour.
Healdsburg
Bear Republic Brewing Company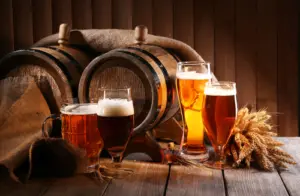 Starting with just one craft beer and right here in Healdsburg, they now can be found all over the US and internationally. But it started here and it's here that you can taste beer on tap, order food that's paired with beer and get your growlers filled.
A taproom and tasting room with an assortment of local hard-to-find craft beers with more than 400 unique carefully chosen suds. They also have the largest selection of cigars in Northern Sonoma County.
The Wurst Sausage Grill & Beer Garden
Right off the downtown Healdsburg plaza you can enjoy the finest sausages, burgers, artisan draft beers, and local wines. This casual sausage and burger joint has some of the most delicious polish dogs, along with legendary milkshakes, root beer floats, and sundaes too. Dogs are welcome on the patio.
Heading North to Windsor, Santa Rosa, Cotati, Rohnert Park & Petaluma
Windsor
BarleyBineBeerCafe
Started by a married couple of Healdsburg High School graduates who developed a passion for craft beer. Their café has 38 taps offering constantly rotating craft beer, cider, and four wine options. Selections include limited and hard to find craft beer in a variety of styles and flavors paired with pub friendly food including grilled sandwiches, flatbread pizzas, cheese plate, and nachos.
Barrel Brothers Brewing Company
A production brewery founded by in-laws in 2015. Their taproom is in a Windsor industrial area somewhat hidden behind the Home Depot. There are more than 20 beers on the menu including their Dark Sarcasm Porter, Blond Voyage Belgian Cream Ale, and Naughty Hops IPA Pilsner that is served from nitro or with carbonation.
Mash Lab is housed in Pinkee's Rod Shop an award winning, nationally recognized hot rod and custom fabrication shop. A glass wall separates the two businesses, so you can enjoy the twelve craft beers on tap while watching sheet metal transform into automotive art. Much of the décor including tap handles, machined aluminum coasters and table bases was created in the shop. Flagship and rotating seasonal beers are offered along with a few snacks.
Old Redwood Brewing Company
A microbrewery informed by traditional techniques, infused with local flavor and creative execution, delivering small batch bottlings presented in their brewery taproom. Modeled after wine tasting rooms, the brewery offers samples of their current batches of micro-brewed beer.
Russian River Brewing Company – Opening Fall 2018
The new brewpub will feature a more diverse menu than their Santa Rosa location including burgers, fried chicken, and salads made with produce from their kitchen garden. Year-round patio seating and a large outdoor area, the tasting room will have ten of their most popular beers for a quick taste and growlers filled quickly. They offer guided tours by reservation and free self-guided tours daily.
St. Florian's Brewery
Started by a Windsor Fire Captain, St. Florian's donates a minimum of five percent of their profits to fire-related and community-based organizations. Named after the patron saint of firefighters, the brewery is popular with first responders. Uniform patches from fire departments around the state decorate the walls. They have events Thursday through Sunday and often have special events and live music.
The Jaded Toad BBQ, Grill and Beer Garden
Grab a seat outdoors in all seasons with firepits to keep you warm in the cooler months.  The Toad is a perfect place to watch a big game with their big screen TVs, and they feature more than 20 craft beers on tap. You can also catch comedy nights, live music, sport events, and grab dinner. They're also pet and family friendly.
Santa Rosa
Hang out in their large beer garden, drink artisan beer and share a simple but interesting chef-created meal. Beer is made in-house and happy hour means $4 beers.
Belly Left Coast Kitchen & Tap Room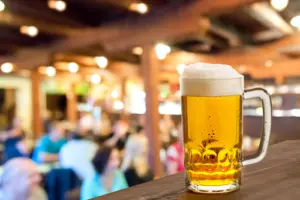 Food, beer and wine sourced with an emphasis on the five Pacific states: Alaska, Washington, Oregon, California, and Hawaii. They utilize seasonal products to continually rotate specials, in addition to enhancing regular staples. They have 20 beers on tap and serve full pints and a pick four taster.
Brew is proud to serve ten rotating taps of the finest craft beer available, along with an assortment of bottled beers. Our beer specialist is obsessed with quality and flavor, and loves to feature limited releases, small batches, and up-and-coming breweries guaranteed to delight. We also offer a selection of the best ciders and wine by the glass. They have Open Mic Tuesdays, Trivia Night on Wednesdays, RuPaul's Drag Race event weekly and Gay Nights DJ and Dance Party every Friday.
Confluence Taproom and Lounge
The taproom offers a changing selection of micro brews and a pub menu. Owned by the founder of the NorCal Beer Geeks.
Cooperage Brewing Company
Instead of a flagship beer, they offer a rotating selection of hoppy and Belgian-style ales. They make small batches, experiment with different hop varieties and yeasts and distinctive nuances. They have frequent events including currently Sunday's Yoga and Beer event and every Saturday's Croques and Toques Food Truck.
A craft brewery and gastro-pub that celebrates the North Coast by sourcing local ingredients and naming each of their beers after a coastal redwood tree. There hopyard farm is in Healdsburg. They have three festivals a year plus weekly events.
In both Santa Rosa and Petaluma, they make five flagship beers. Dogs, kids and adults are welcome to their tasting rooms. They offer tours on Sundays and food trucks are stop by three evenings a week.
More than twenty beers are served on tap in a fun, welcoming atmosphere. They have bottles and cans, ship beer and have live music every Sunday.
Moonlight Brewing Company
A permanent taproom is coming soon but, in the meantime, they have a temporary taproom inside the brewery that is open select hours on weekends. They have six taps two of which are always serving Death and Taxes and Reality Czeck.
Old Possum offers a varied tap list, which includes a blonde ale and chocolate espresso stout aged in rum barrels. Lil' Bites and Big Bites make up the menu.
They offer their plow beers on tap and their Divine line of brews are offered on a limited basis in the bottle at their open 7-days a week taproom. Tours are offered once a month.
Rincon Valley Tap Room & Bottle Shop
A rotating assortment of beers on their 14 taps. You can also pick a bottle to drink from the huge collection in their shop. They have weekly events, such as beer tasting nights, as well as terrific one-offs with local brewers.
Russian River Brewing Company
Located in both Windsor (Fall 2018) and Santa Rosa, they are the home of the award-winning beer with the cult following mentioned above. They also offer an extensive pub menu.
Sprenger's Tap Room & Restaurant
Known for having 40 West Coast craft beers on tap and serving locally sourced food they menu offer breakfast, lunch, and dinner seven days a week. Happy Hour specials featuring high-end pub food are Wednesday through Monday.
Steele & Hops Public House
They brew their own beers and serve a large selection of other northern California micro brews on tap. Soups, salads, small plates, brick oven pizzas and mains are served
They have a small select craft beers on tap, serve breakfast and have a pub menu but they are unique. Their moto is "Bikes. Beer. Coffee." They provide loaner bikes, do repairs and builds and offer biking supplies, dry goods and general notions for the ride. They say,
"Doughnut-making classes. Live music. Group rides. Hair braiding relay races. Cycling Race TV Watching. Goldsprints. Ride clinics. Lessons on Very Serious Beer Drinking.
Some things we schedule, some things just happen."
An outstanding brewpub known for their award-wining British inspired ales and craft American beers. They serve a varied and delicious beer-friendly food menu. Call for information on brewery tours.
They offer twelve micro brews (and some wine) on tap; flatbreads, sandwiches and salads on the food menu, host weekly spirit and wine tastings; and have live music.
Petaluma
101 North Brewing Company
Fairly new, the Tap Room has their fresh beer on tap "usually a pop-up grub hut."
A modern-rustic take on the original German bier garten, pairing local craft beers to a menu influenced by Southern Carolina barbecue dishes. They have more than 30 beers on tap, Sonoma and Napa Wines, and a full selection of spirits and cocktails. They have a bocce court and live music.
Lagunitas Brewing Company
A must stop on any beer tour, is the iconic Lagunitas Brewing Company. The TapRoom and Beer Sanctuary of the craft beer maker of the famous Lil' Sumpin' Sumpin', offers free guided tours. They have live music and pub food. They are the largest beer distributor in the county.
Dempsey's Restaurant & Brewery
Locals and visitors have been enjoying Dempsey's delicious brews since 1991. Sit back and relax on the patio, have a pint at happy hour, take away a can or growler, or simply have a beer with your lunch or dinner. Kegs are available, too. Any way you drink it, you will enjoy one of their award-winning handcrafted ales.
HenHouse Brewing Company Petaluma Location (also in Santa Rosa)
In both Santa Rosa and Petaluma, they make five flagship beers. Dogs, kids and adults are welcome to their tasting rooms. They offer tours on Sundays and food trucks are stop by three evenings a week.
The local and unique beers on tap list is extensive and they offer a selection of gluten-free beers. The menu is unique, affordable, and offers creative twists on traditional pub fare.
EVENTS
Petaluma River Craft Beer Festival
Beerfest, Santa Rosa
Beer Revival, Monte Rio
TOURS
North Bay Brewery Tours
            (707-786-6286)
This information on our Beer Trails Tours was correct as of April 2, 2018. We've provided links to all the websites available, so you can build a beer itinerary based on your interests and so that you have the most current information. As always, the Camellia Inn is happy to help!