I think we all can agree that breakfast is the most important meal of the day. One of our staff members daughter, Abigail, is 10 years old and she told us the other day that our "Healdsburg Breafkist (yes, she says breafkist instead of Breakfast. They don't have the heart to correct it) is so delicious." That's a 5 star rating in our books. We have to say that we agree with her on this! Our Healdsburg breakfast offers you Breakfast ingredients that are locally-sourced, organic and sustainable, in-season and "right off the farm" fresh. If you've never had an egg that wasn't shipped to a grocery store from far away, eating breakfast at the Camellia Inn will be a revelation. Our eggs come from local hens that are well treated, and they're delivered fresh daily. There is so much more that we offer during breakfast time, so we'd love for you to check out our website to find out for yourself.
We are confident in what we can offer you for breakfast, but on the chance that you want to get out and explore other Healdsburg breakfast spots, then we want to help you out. Below is a list of some really delicious Healdsburg breakfast spots for you to enjoy during your stay with us at our Camellia Inn.
Healdsburg Breakfast Spots
The Parish Café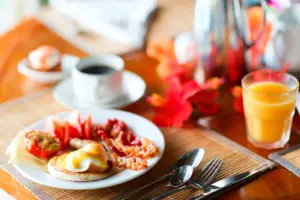 The Parish Café is one of our favorite Healdsburg Breakfast spots for a number of reasons. The first reason is a big one! They serve hand-made beignets that are rolled out fresh when ordered and quickly deep-fried and smothered in powdered sugar.  The chef has a handful of Louisiana styled breakfast meals that include Eggs Nouvelle Orleans. This includes a generous amount of poached eggs, mounds of sweet blue crab meat, silky house-made hollandaise and a scattering of shallots on crisp buttered French bread. There are several other breakfast masterpieces for you to enjoy at this brilliant Healdsburg Breakfast café. We suggest looking their website over, so you can see the rest of their menu. You won't be disappointed. http://theparishcafe.com/home/healdsburg/
Costeaux French Bakery
Another fabulous Healdsburg Breakfast stops for you is Costeaux French Bakery. It's a wonderful place for you, for your date and for your family. They offer delicious French Toast, The Costeaux Omelette, a Vegan Omelette, and Deep Fried Quiche. On Sundays, they serve a Brunch that offers you these options as well as an Eggs Benedict, a Croissant Breakfast Sandwich, and so much more. This Healdsburg breakfast Bakery is the perfect option for anyone wanting to dine on tasty local cuisine. For anything and everything Costeaux, head over to their website.  http://www.costeaux.com/
SHED
Shed is yet another excellent choice for you to enjoy a delightful Healdsburg Breakfast. SHED's menus change daily because they are inspired by what's in season and reflect their commitment to local farmers and producers. For those who have a sweet tooth during breakfast, then dine on waffles, pancakes and homemade granola, fruit and yogurt. For those wanting a more savory Healdsburg breakfast than enjoy the Biscuits and Gravy, Quiche or Frittata. You can also eat a Smoked Trout plate or something from their Fish Curd Board. SHED also serves a weekend Brunch that won't let you down. Also, for those coffee lovers, their coffee and espresso bar is exceptional. For more information on this Healdsburg Breakfast location, head over to their website: https://healdsburgshed.com/eat/
Singletree Café
The last Healdsburg Breakfast destination on our list that we think you'll enjoy is the Singletree Café. This is a perfect spot for families with children. This is a spot that'll offer you an extensive list of traditional breakfast meals. From the basic breakfast, to the Tofu Omelette, to the Buckwheat waffle and the buttermilk pancakes. You should also look to partake in one of their country breakfast options. Choose from the Chicken Fried Steak and Eggs, or the Delicious Breakfast Burrito, or the tasty Biscuits and Gravy. The Singletree Café also has a nice list of Coffee and Juices to enjoy. All in all, you can't go wrong when eating at this Healdsburg Breakfast location. Head over to this website to look at their full menu. http://www.singletreerestaurant.com/our-menu/
Are you ready for your Healdsburg Breakfast?
After reading this list of Healdsburg Breakfast locations, we hope the answer to that question is a resounding yes. If you decide to take us up on the Camellia Inn Breakfast, we know you'll be satisfied. If you choose to explore downtown Healdsburg and all it has to offer, then we know you'll be just as satisfied because our Healdsburg Breakfast community is top notch. At the end of the day, we want you to enjoy your time in Healdsburg. We want you to be happy and plan another trip to Healdsburg. When you are happy, we all are happy!