Whenever we think about our spa in Healdsburg Ca, James Taylor's song "Up on the Roof" springs to mind:
"When this old world starts a getting me down,
and people are just too much for me to face.
I'll climb way up to the top of the stairs and all my cares just drift right into space.
On the roof, it's peaceful as can be and there the world below don't bother me, no, no."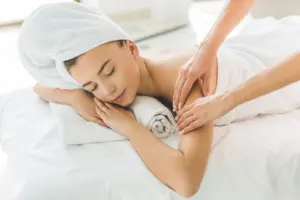 The idea of getting away to the 'top of the roof', or just getting away from the stress of life and letting your struggles fade away is exactly what we want for you at the Camellia Inn Bed and Breakfast. Our Spa in Healdsburg Ca can provide you with whatever escape you are looking for. Do you want a couple's treatment? Do you want a girl's spa in Healdsburg Ca day? These are just two questions to ask yourself when you are thinking about booking a spa day with us. We hope to entice you even further with this list of some of our spa in Healdsburg Ca treatments.
It's all about you…
Okay, our spa in Healdsburg Ca is all about you and giving you the very best experience possible. We aren't going to bring you to the roof, like James Taylor sings about. Rather, we'll bring that same feeling when you come to our sun porch that's rich with period tile floors and a tall ceiling. It's the perfect location to let all your "cares drift right into space." Another cool option we offer is to have an individual massage in your room. Just ask, and we'll make it happen. Okay, enough already, let's give you a nice list of our spa in Healdsburg Ca options.
Reiki
One of our most popular spa in Healdsburg Ca options is to have a Reiki massage. Reiki is based on the idea that a life force energy flows through us, and that fluctuations in this energy affect our physical health, according to the International Center for Reiki Training (ICRT). Our licensed therapists will give you a very light hands-on touch or will hold his or her hands close to your body, while moving the hands systematically through different positions, with the intention of discharging negative energy and replacing it with positive energy. This is a 60-minute treatment.
Swedish
The next spa in Healdsburg Ca treatment we offer at the Camellia Inn is a relaxing Swedish massage. This is offered to individuals or couples for a sixty-minute duration or for ninety minutes. The Swedish massage is the most well know massage around, and it's the best place to start if you haven't had a massage before. During this therapy session, our massage therapists will work with the soft tissues and muscles in the body to help restore balance and health. At the end of the massage, all the muscles in your body will be relaxed and any pain and tension that may exist, will be released.
Deep Tissue Massage
Another one of our spa in Healdsburg Ca massage treatments is a Deep Tissue Massage. This is also a 60 or 90-minute treatment and is also offered to individuals or couples. This massage uses some of the same movements as a Swedish massage but is also very different and highly beneficial. It's used to break up scar tissue and physically break down muscle "knots" or adhesions (bands of painful, rigid tissue) that can disrupt circulation and cause pain, limited range of motion, and inflammation.
Master's Massage
One of our unique spa in Healdsburg Ca treatments is a Master's Massage. One of our Senior therapists, whom is expertly trained in many treatment modalities will discuss with you a customized treatment. This is a 60 to 90-minute therapy for couples or individuals. Our bodies are all unique and need to be treated that way. This treatment will allow us to cater to your exact needs. Tell us what you want, and we'll make it happen.
Mothers to Be
Come on now, a Mother to Be Massage? What? Yes, at our Camellia Inn, we offer a 60-minute treatment.  A therapist specially trained in pre-natal massage will address the unique needs of expectant mothers. Our spa in Healdsburg Ca knows how hard our mothers-to-be are working, so we want to take care of them. Book this treatment ASAP, it's well deserved
Now it's time…
I think we all can agree that the spa in Healdsburg treatments we offer at the Camellia Inn Bed and Breakfast are enticing. Whether you're looking for a relaxing Swedish, blissful Reiki, penetrating deep-tissue, exclusive master's, or a respectful Mother-to-be massage, rest assure you are in the very best of hands. Our therapists are among the finest professionals in the wine country. We hope we've done enough to convince you to book a spa in Healdsburg Ca day or weekend with us at the Camellia Inn. For anything else, and pricing, or to contact us, please head over to our website. We look forward to at least, starting the conversation!