In our previous blog post, 'It's a May to Remember when you stay at the Camellia Inn Healdsburg B&B' we had the chance to inform you about a few interesting excursions and activities you and your family could take part in during the early part of May. We'd like to let you know of a few more fun outings you could take part in while you stay at our Healdsburg Inn from now until the beginning of June.
Russian River Rose Open Gardens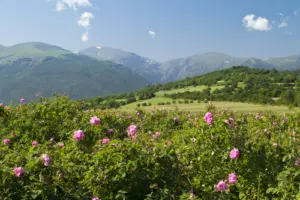 Our Camellia Healdsburg Inn is flooded with several wonderful activities and events that you or your family may want to experience during the second half of May and early June. On Saturday May 19th and Sunday May 20th, you can visit the Russian River Rose Garden's Nursery. Their nursery is filled with wonderful roses, irises and perennials for the birds, bees and butterflies! If you choose to experience this nursery you will see California's only PERFUME ROSE fields. You might be able to catch a distillation of rose petals into rose water, rose oil and sample some rose water sorbet! Enjoy the many beautiful garden features, and Smile! Their garden is open from 10 to 5pm and you can find out more by visiting their website:  http:/www.russian-river-rose.com
Breakfast at Breathless
Another activity that may suit you when you stay at our Healdsburg Inn, is to attend Breakfast at Breathless Wines. On Sunday May 27th, you can take the 5-minute trip from our Camellia Healdsburg Inn and join Breathless for their popular 'Breakfast at Breathless series!' Held on the last Sunday of each month from April through October.  You'll enjoy an authentic sweet or savory French Crepe from Brittany Crepes and a delicious glass of bubbles at their tasting room and garden. For pricing and all other information head over to their website: https://www.breathlesswines.com/Wines/Event-Tickets
Wonder Bread 5 at La Crema
Our Healdsburg Inn is always lucky to be surrounded by terrific music. On Sunday May 27th, you can go and enjoy a beautiful afternoon at the La Crema Estate at Saralee's Vineyard with the international rock and roll party machine known as the Wonder Bread 5. From current hits to classics from the 60s, 70s, 80s, 90s and beyond, Wonder Bread 5 delivers rock and dance hits that will keep you dancing all afternoon. Ticket includes a La Crema logo'd wine glass & a glass of wine! Doors open at 12pm and the band starts at 1pm. Wine and food will be available for purchase starting at noon. You can head over to this website for more information and ticket pricing: https://www.eventbrite.com/e/wonder-bread-5-concert-tickets-44492488230?aff=efbeventtix
Museum Mondays for Little Ones
If you are staying with us at our Camellia Healdsburg Inn on Monday May 28th and would like to treat your children who range from the ages of 1-5, then heading to the Charles Shultz Museum is a great option for you and your kids. On the last Monday of the month the museum will offer stories, arts and crafts activities, and movement games. The doors open at 10am and last until lunch time. Head over to their website for directions from our Healdsburg Inn and for all other event details: https://schulzmuseum.org/learn/calendar-of-events/?EventId=32256&eventscheduleid=233942
20th Annual Healdsburg Jazz Festival
Like we said earlier, our Healdsburg Inn is always surrounded by exceptional music events, so the Healdsburg Jazz Festival is another stop we think anyone will enjoy. Starting on June 1st and lasting until June 10th, you and your family can help in Celebrating 20 years of bringing jazz performance, education & culture to the community.
Local guitarist Julian Lage and the genre-spanning Bill Frisell will open the 2018 Healdsburg Jazz Festival at the SHED in Healdsburg on Friday, June 1, to kick off 10 days of great jazz in during the 20th Anniversary Festival. Other artists over the first weekend alone include the Fred Hersch Trio and Trio La Paz, with guests Anat Cohen and Claudia Villela, saxophonist and flutist Charles Lloyd performing with Zakir Hussain, Gerald Clayton, Eric Harland and others.
The 10-day event will be an exceptional time for anyone interested in enjoying music. The tickets have already gone on sale, so head over to this website to learn more and to purchase tickets. http://www.healdsburgjazzfestival.org/
The Camellia Healdsburg Inn
The month of May is only the start of so many wonderful experiences and activities you can be a part of while you stay at our Healdsburg Inn. Our location is in the center of everything and our staff has a lot of other wonderful destinations that they want to tell you about. We'd love to hear from you, so we can help book your next trip and to answer any questions you might have about our Healdsburg Inn and everything we offer. If you're are planning to stay with us in the future, check back here for more lists of upcoming events that will be occurring during those times you are planning to stay at the Camellia Healdsburg Inn.