"We cannot stop the winter or the summer from coming. We cannot stop the spring or the fall or make them other than they are. They are gifts from the universe that we cannot refuse. But we can choose what we will contribute to life when each arrives." – Gary Zukav
Camellia Inn Healdsburg B&B
This quote can't be any more accurate. No matter the season or time, when it comes to planning a vacation or getaway, the contribution you put into it should be met with the same contribution from the destination you choose. The staff we have at our Camellia Inn Healdsburg b&b is the best in the business in our biased opinion. Whether it's Winter, Spring, Summer or Fall our staff at the Camellia Inn Healdsburg b&b will do everything in their power to make your stay with us a memorable one.
A May to remember!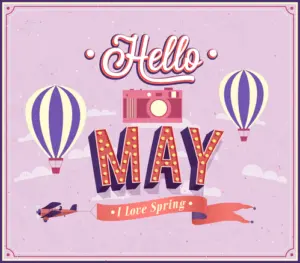 Now that the April showers have come and gone, this can be a May to remember. Our staff at the Camellia Healdsburg b&b have made up a list of some exciting things to do in Healdsburg during the month of May. Please don't hesitate to contact us to inquire about these events for further detail.
Spring Vineyard Hike
On May 10th and May 11th, you can head on over to Jordan Vineyard & Winery for a hiking excursion, that will feature mountain views, wildlife, vineyards, lakes, wine tasting and more. This $95 event is a hike that will start at Vista Point, which is the highest hilltop on the 1,200-acre ranch. Our Healdsburg B&B staff assures that this isn't an overwhelming hike, but you should be in the right frame of mind to cover a 3-mile stretch of hills and valleys. You'll have an opportunity to taste the Jordan Estates Olive Oil in a nice spot under the trees, and then finish the hike off back at the Winery Chateau on their terrace for a fun charcuterie picnic and wine tasting of Jordan Chardonnay and Jordan Cabernet Sauvignon. For more information and to book this excursion, you can click this link: https://www.jordanwinery.com/events/spring-vineyard-hike-4
Girlfriends on the Green
We know this event is just around the corner, and it might be sold out, but our Healdsburg b&b really believes this is an important one to be a part of. If not this year, then next year for sure. Soroptimist Int'l of Healdsburg proudly presents their 9th annual women's golf tournament, Girlfriends on the Green, to be held on May 11, 2018 at Healdsburg Golf Club at Tayman Park. It is a four-player scramble with contests and prizes followed by a dinner reception with live auction and Dutch raffle. Proceeds benefit the Shannon Boaz Memorial Scholarship for Active Girls providing scholarships for girls in our local community to participate in sports, arts, science and various extra-curricular activities. Head to their website for more information by clicking here http://www.soroptimisthealdsburg.com/. Now this tournament may be sold out this year but put it on your calendars for next year. Hey, you might be able to sneak into this tournament if a team has had to cancel last minute. Contact our staff at our Camellia Inn Healdsburg b&b to find out.
Esprit du Rhône
This is a fun get together that our staff at our Healdsburg b&b think is a great choice for our guests. Join the newest event along the Wine Road ~ Esprit du Rhône! This is a weekend celebrating the spirit of the Rhône. For $40 a person, on Friday May 18, from 6pm until 8pm you can join 20 winemakers for a casual walk-around tasting at Longboard Vineyards. Here you can sample wine, enjoy apps, live music and play some games. Click this link to read about all the details for this fun event that our Healdsburg b&b thinks you'll enjoy: https://www.wineroad.com/events/esprit-du-rhone/
Luther Burbank Rose Parade
If you're lucky enough to be staying with us at our Camellia Inn Healdsburg b&b at the time of this event, then consider yourself lucky. The 124th Annual Luther Burbank Rose Parade & Festival celebrates with "Together We Rose" as the theme on Saturday, May 19 in Downtown Santa Rosa. They will be celebrating the strength of community and reflecting back on the last 150 years of existence. We at our Healdsburg B&B think this year will be so emotional and unifying. Award-winning floats, marching groups and school bands and non-profits will fill the streets with excitement and the Courthouse Square will be the site of a fun filled day of live music, food booths and activities for the whole family. Parade is 10 am to 12 noon with the Festival starting at 9 am to 2:30 pm. http://roseparadefestival.com
The Camellia Healdsburg B&B
The month of May can be a month to remember for so many reasons if you decide to stay with us at our Camellia Inn Healdsburg B&B. Whatever you choose to do, like take advantage of our Spa, or our breakfast, or if you choose to take part in one of these fun staff-picked Sonoma County events we've listed here, we believe you will enjoy yourselves immensely. Please, I know we always mention this, but it's true, our staff is waiting for you to contact them! No matter the question or concern, or the type of help you need, we want to help contribute to you getting the most out of your stay with us at the Camellia Inn Healdsburg b&b.