I looked outside today, the sun was shining over the Camellia's in our garden at our Healdsburg, Ca Spa. How beautiful that sight is every morning! Especially this time of year, when the weather heats up, and we can spend so much time outside soaking up the sun, swimming in the pool or even getting a massage at a spa. We can only imagine what you are thinking about right now, and what you are thinking about doing in the coming months if you are going to be traveling.
These spring and summer months will most likely have you traveling with family, friends, significant others, or even for work. There's so much you'll look to do and want to do! One relaxing experience you can investigate is to look for Healdsburg, Ca Spa getaways. The Camellia Inn b&b is one destination that would love to supply you with the information you need for a Healdsburg, Ca Spa experience. Here is just a taste of what our Camellia Inn in Healdsburg, Ca, Spa experience can offer you.
Our Healdsburg, Ca Spa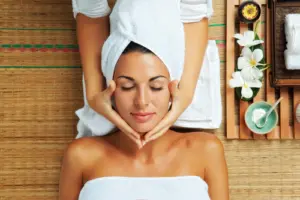 We don't claim to have the market covered when it comes to the Healdsburg, Ca Spa experience. But, we can claim to be the very best at what we do during our Spa treatments at our Camellia Inn b&b. We have several aspects that set us apart from other Healdsburg, Ca Spa experiences. First, our Healdsburg, Ca Spa at the Camellia Inn was created to enhance a memorable experience of luxurious relaxation. Located in our original sun porch with period tile floors and tall ceiling, it is an elegant sanctuary of retreat.
Next, we have a great set of treatments you can select from. Then, we have unique and enticing specials you can choose from. You can also click this THE SPA link to see what our pricing is for each Spa treatment.
Our Healdsburg, Ca Spa Menu
Relaxing Swedish Massage which can be for individuals or Couples. Both are 60/90 minutes long. If you'd like an individual massage in your guest room, we'd be happy to accommodate. It's just as small extra fee.
Our Healdsburg, Ca Spa Deep Tissue massage will focus on tight muscle tissue while providing the deep stress release your body needs. This treatment is also for individuals or couples and can be administered individually in your room for an additional fee. This Spa treatment can be 60 or 90 minutes long.
A senior therapist, trained in multiple treatment modalities, will consult with you on the specific needs of your body to create a highly customized treatment utilizing many techniques for ultimate stress relief and relaxation. This is a 90-minute treatment for individuals or couples.
A therapist specially trained in pre-natal massage will address the unique needs of expectant mothers who deserve special pampering. The mother-to-be spa treatment can be 60 or 90 minutes long and will be done in your room or in our sun porch. Whatever makes the Mother-to-be most comfortable.
Our 60-minute Healdsburg, Ca Spa Reiki treatment, is a no-touch, visualization technique opens the flow of energy through your body, reaching physical, emotional and spiritual levels.
Special Packages
Our Healdsburg, Ca Spa has a unique and exceptional list of Special Packages that we think you'll enjoy. Here is a list of those with a sentence or two about them. Please click on any of them at any time to read their full descriptions and offerings.
Do you like Golf and Massages? Then this customized package is just for you. A 60-minute golf lesson and couples massage will make for a wonderful retreat.
We offer a special "Babymoon" package for moms-to-be! Our Babymoon special includes a pampering mother-to-be massage and chocolates to satisfy that craving. We love you moms!
Luxuriate in a feast of the senses, celebrating the best of Sonoma Wine country. Relax with our ultimate massage offering, dine out at one of Healdsburg's exceptional restaurants and enjoy a chauffeur-driven tour of wineries, including a private winery experience. There's way more to this package, so please click the Camellia Inn-Dulge link.
Make a sweet escape to the Wine Country to enjoy an incredible chocolate experience. Best of all, there is no additional charge for Chocolate Covered Wednesdays. Join us any Wednesday night for complimentary chocolate.
A bed, a breakfast, a book, some wine, some cheese, some ice-cream and a massage. The package is guaranteed to put you on the road to break-up recovery.
This package is for anyone needing a quick enjoyable retreat.
This is Our most popular Healdsburg, Ca Spa package! Click on this WINE COUNTRY DATE link to get every detail.
This Healdsburg Ca, Spa package we offer at the Camellia Inn is perfect or anyone wanting to rejuvenate, stay fit and work out those tired muscles all in one visit.
Healdsburg, Ca Spa Experiences
We believe that you will experience the very best spa treatments while staying with us at the Camellia Inn b&b. The list of Healdsburg, Ca Spa treatments and special packages is an extensive one, and one we pride ourselves in. Our therapists are all exceptionally trained and eager to treat you. Please contact us if you have any other questions or to set up a Healdsburg, Ca Spa treatment. Cheers!