Looking for a more active and engaged experience in your next vacation? Immersive activities are the key to making lasting memories. Start with the best bed and breakfast Healdsburg has to offer, and you can see the area as a local for a few days. The Camellia Inn is where you can begin some truly transformative travel.
Outdoor Activities Around Healdsburg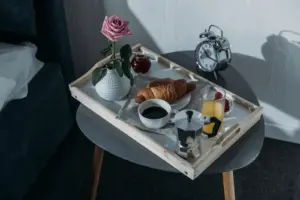 You might think staying in a bed and breakfast in Healdsburg would be all about rest and relaxation. However, the lush landscape of Sonoma County offers plenty of outdoor fun so you can break a sweat, release that stress, and enjoy a hands-on, first-person experience with the environment around you.
Some of the most popular activities within minutes of the Camellia Inn:
Rent bicycles and pedal around the scenic foothills
Fix your slice with our golf package, including club rental and private lesson
Take a hot air balloon ride to see the wineries and landscape
Go skydiving with views of Sonoma County and the Pacific Ocean
Hike the Healdsburg Ridge Open Space Preserve
Compete in the Healdsburg Wine Country Half Marathon in October
Enjoy a horse-drawn carriage ride winery tour
The Best Way to Experience Wine Country
Visiting specific wineries? Want to dabble in all the local wine and beer? You're close to it all when you stay at our bed and breakfast in Healdsburg. Enjoy short day trips and tours to award-winning Sonoma County vineyards, plus a healthy mix of both casual and five-star dining.
From our bed and breakfast, Healdsburg's acclaimed Russian River and Dry Creek wineries are just minutes away. Besides the chardonnays and cabernet sauvignons, the area is known especially for pinot noir, zinfandel, and chenin blanc.
For even more of a local experience, explore the tasting rooms around downtown Healdsburg to make your trip less rushed and more grounded.
The Bed and Breakfast Healdsburg Experience
There's also a human connection involved with the B&B experience. You can chat with other Camellia Inn guests during our wine and cheese tastings, and get to know the Lewand family that founded our bed and breakfast in Healdsburg more than 30 years ago.
The Camellia Inn bed and breakfast in Healdsburg offers the perfect way to break the mold—while beginning and ending each day surrounded by charming vintage decor and modern luxuries. View our B&B packages and specials to begin creating the perfect Sonoma trip!