"Everything is just better in California – the wine, the food, fruits and vegetables, the comforts of living. Even the instrumentalists are generous and curious. Everything is wonderful." – Beth Anderson
We love the passion of this quote, and we at the Camellia Inn Bed and Breakfast can't agree with Beth Anderson more. Of course, we are going to be bias because we live in Northern California and our lodging in Healdsburg is one of those wonderful treats that Northern California has waiting for you. Lodging in Healdsburg is a topic of conversation for so many different reasons. We imagine that the reasons lodging in Healdsburg is on your minds is due to travel plans. Those travel plans may have different itineraries such as, business travel, family vacations, wine tastings, spa weekends or group events. Lodging in Healdsburg with us at the Camellia Inn Bed and Breakfast is an ideal choice for you for so many reasons.
Places to Visit when Lodging in Healdsburg
Wine Country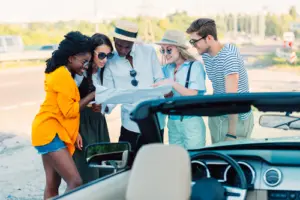 While lodging in Healdsburg at our bed and breakfast there are three renowned wine growing regions to get acquainted with. The Dry Creek Valley, Alexander Valley and Russian River Valley have dozens of wine hospitality rooms for the area's premier wineries. Napa Valley, Sonoma Valley, the Russian River, the Pacific Ocean, Armstrong Redwoods and Mendocino are close enough for a daytrip. Here are a few of our favorite wineries to stop at while lodging in Healdsburg.
C Donatiello
If you are looking for a winery with a cool vibe while lodging in Healdsburg, then C Donatiello should be on that list. If you want to hang out with a personable staff and have an exceptional Pinot or Chardonnay, then stop in. They have some great packages that include, wine and cheese and a great coffee and wine package. Chris Donatiello and Lisa Weast are two wonderful people that'll treat you right and leave a smile on your face.
Bella Vineyards and Wine Caves
Another great winery to visit while lodging in Healdsburg is Bella Vineyards. According to Libby Cunningham who works there, "Bella's wine cave is something everyone loves. The atmosphere is amazing. It's a great place to picnic on the grass. It's pet friendly and you will enjoy a great glass of wine." She also went on to talk about a one of their wine selections which is the Lily Hill estate which is grown on the property. We trust Libby immensely, so you should most definitely put this on top of that itinerary during your stay with us at the Camellia Inn or wherever you are lodging in Healdsburg.
Food and the Camellia Inn Breakfast
Besides the many wineries, so many people decide to book their lodgings in Healdsburg because they want to experience the many fantastic eateries that Healdsburg has to offer. There are so many choices for you, such as wonderful Japanese food at the Taste of Tea, or a delightful menu at Café Lucia, and delicious Italian food at Campo Fina. These are just a few options to decide from while lodging in Healdsburg. When you are lodging with us at the Camellia Inn, the breakfast part of our bed and breakfast is something that you won't want to miss.
We believe in supporting our local farmers, ranchers, and local businesses. Whenever possible, our breakfast ingredients are locally-sourced, organic and sustainable, in-season and "right off the farm" fresh. If you've never had an egg that wasn't shipped to a grocery store from far away, eating breakfast at the Camellia Inn will be a revelation. Our eggs come from local hens that are well treated, and they're delivered fresh daily.
Although Healdsburg and Sonoma County are known for producing renowned wines, many people don't know that the terroir (taste of the earth) that is essential to producing those award-winning grapes is also responsible for our amazing agricultural bounty. Not only are fabulous grapes produced here but so much more comes from the soil, the individual farmers and a dedication to sustainability and producing the very best.
Lodging in Healdsburg
Whatever the reason is for your travels, lodging in Healdsburg at the Camellia Inn Bed and Breakfast will treat you to some wonderful wineries, eateries and beauty. We believe when lodging in Healdsburg, there isn't enough time to visit all the places you want to, so we'd love to help you with your plans. Our wonderful staff has their fingers on the pulse of Sonoma County and especially Healdsburg. Whether your travels are for a day, a weekend or an on overnighter, our staff will lead you in the right direction, so you can go home knowing that you've had an experience to hold on to. Also, an experience that'll make you want to come back time after time. Please click here to contact us so we can get your travel plans headed in the right direction.