We are turning the corner on winter, and spring is so close we can taste it. The cold weather will soon take a back seat and we'll start to experience the freshness of a brand new spring season. If you have plans to take a trip to Northern California in the spring, right now is the perfect time to start looking into Healdsburg California and booking some Healdsburg Accommodations. One of those great Healdsburg accommodations is our Camellia Inn Bed and Breakfast. Our Healdsburg accommodations offer so many unique and comfortable amenities that'll help you get the best out of whatever trip you are planning. The Camellia Inn is located in downtown Healdsburg, so these Healdsburg accommodations settings will be the perfect place to set up your home base for whatever you are planning to do while you stay with us.
The purpose of this blog post is to entice you to stay with us at the Camellia Inn Bed and Breakfast! But, if we are being honest, there are bevy of Healdsburg accommodations at your disposal. For this post, you'll find a list and short explanation on some of the excellent amenities and special packages we offer at the Camellia Inn.
Our Rooms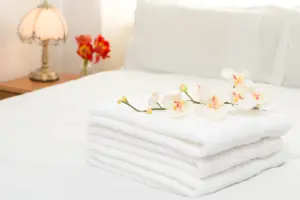 I think we all can agree, when you check into your Healdsburg accommodations or any place you've booked, there's that excitement and anticipation to see what your room looks like in person. The rooms at the Camellia Inn are exactly what you'll see when you look them over on our website. You can check them out by clicking here. From our comfortable beds, to plush sheets, to privacy, these Healdsburg accommodations are so enticing. We want to highlight two things about our rooms at our B&B for this blog.
When you book one of our rooms, you'll receive a complimentary locally sourced breakfast. The food we offer begins at 7:15am with fresh roasted coffee and a wide selection of herbal and caffeinated teas and hot chocolate. At 8:30am, the dining room opens with fresh fruit, fruit juice smoothies, granola, your favorite breakfast cereals, yogurt, fresh baked bread from Costeaux's bakery, and perhaps another breakfast pastry. Our hot entrées of the day are on the sideboard (yes, exactly like you read about in old English mystery novels), and they vary from sweet one day to savory the next. If you are fortunate enough to be able to join us for breakfast on Chocolate Covered Wednesdays, there will also be chocolate on the menu.
All of our guest rooms at the Inn features a private bath and all include a shower. Some rooms have whirlpool tubs for two. We also provide you with complimentary wireless service.
You can read the full descriptions about our rooms on our website, because there's so much more than just these two excellent amenities. We hope you'll head over to look at all of our rooms.
Specials and Packages
We are pretty confident that everyone is on the lookout for unique specials and packages when booking their Healdsburg accommodations. Our Camellia Inn Bed and Breakfast has exceptional choices for you. Here is one exclusive special we want to highlight for you.
The Ultimate Getting Over the Breakup Package
Breaking up is always hard but at the Camellia Inn we have put together a package that gives you a place to feel comfortable and relaxed (far away from your ex), and then move on.
The Package Includes: Two nights in a queen size room, full breakfast each morning, evening wine and cheese tasting, a copy of a self-improvement break-up recovery book (such as "Breaking Up Without Breaking Down"), one pint of Healdsburg's Downtown Bakery & Creamery Ice Cream (organic, all natural ingredients make this the best ice cream in the world), a voodoo doll with pins to write his/her name on.
After the ice cream, it's time to put yourself back together and a breakup can signify a new beginning. It's scientifically proven that exercise improves your mood and alleviates depression. Also included in the package is your choice of a one-hour exercise class each day or a 60 minute massage in our spa, and a specially designed self-guided wine tasting tour. I think we can all agree this package is exactly what you'll need to put you on the road to break-up recovery.
We have several other options for you, so please click here to educate yourself on the rest of our Healdsburg accommodations specials and packages.
Healdsburg Accommodations
We know it's cold out right now, but February is ending, and March is right around the corner. We'll turn the clocks forward and we'll have more time in the day to enjoy our nights out to Healdsburg, California and the Camellia Inn. Our Healdsburg Accommodations are second to none in our opinion, so we want you to stay with us, like all the time. If you don't we understand, but we hope you don't enjoy yourselves. No, just kidding. There's no possible chance of that happening. We know you'll enjoy whatever Healdsburg accommodations you choose. Please contact us by clicking here if you have any questions about our Healdsburg accommodations or if you'd like to book your stay with us.