"Count your age by friends, not years. Count your life by smiles, not tears." ? John Lennon
How true is this from John Lennon? I think we all can agree that life should be enjoyed through the relationships we have and the times we spend with smiles on our faces. Food for me, brings the biggest smile to my face. Wine for so many of the tourists, who stay at the Camellia Inn brings smiles to their faces. And, the easy going, welcoming vibe of Healdsburg, California is yet another reason for so many other enormous smiles.
So, the 2018 new year is in full swing and there's so much that'll bring a smile to your face. Especially, if you've chosen to book a trip in Northern California while staying at one of the exceptional Healdsburg Inn lodgings. If you are into beer, the next 14 days are an exceptional time to book your stay at our Camellia Healdsburg Inn.
Pliny the Younger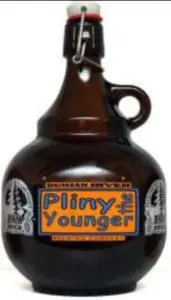 Russian River Brewing Company, located 16 miles from our Healdsburg Inn released their world-famous Pliny the Younger beer on Friday February 2nd.The Russian River Brewing Company releases this beer, once a year for two weeks, every February. The fantastic thing about this release isn't that it's a tasty beer, which it is, but the release brings people from all over the world. We've had visitors from Germany, Switzerland, and Australia all stay at our Healdsburg Inn. Healdsburg, for some, wasn't the first option for these beer connoisseurs, but the hotels and Inn's in Santa Rosa book up months in advance, so an alternate plan always arises. A Healdsburg Inn becomes many people's next choice.
Beer and Breakfast?
Some of our Healdsburg Inn guests have also told us that they love having us make them one of our locally sourced breakfasts 'To-Go.' Yes, the Camellia Inn Bed and Breakfast does breakfast to go. The reason why this is popular, our guests can eat it as they stand in the big line waiting to get into the Brewing Company. People start waiting in line each day at 3 or 4 am to enter as one of the first groups when Russian River Brewing Company opens at 11:00 am. The wait time will always be in the hours, so having a nice fresh breakfast and fresh coffee from our Healdsburg Inn is such a unique bonus.
In the end, people who stay with us at our Healdsburg Inn Bed and Breakfast and attend the Pliny the Younger release come back to stay with us the next year. It's been brought to our attention, that many of the people who stay at our Healdsburg Inn during this beer release, love staying outside of Santa Rosa. A guest told us, "Santa Rosa becomes a zoo in February. All the restaurants are packed, the hotels are booked, and all the parking spots are taken. We love the beer, but Santa Rosa isn't San Francisco. It's great to be in Santa Rosa where you can enjoy the Pliny the Younger or Blind Pig and then get the heck out of there." We understand completely, and understand the desire for accessibility during a time of craziness. That's a huge reason why a Healdsburg Inn stay is becoming more and more popular during this time.
Be Safe and Pliny On
When it comes down to it, the month of February is all about the Russian River Brewing company and its release of their once a year Pliny the Younger. The release of this beer has become such an event that people from all over the world plan their trips a year in advance. Santa Rosa Hotels and Airbnb's get booked quickly, so the Pliny visitors are in need of a place to stay. Healdsburg and the Healdsburg Inn scene has become the next best thing during this fun time.
We can't stress enough that we are 20 minutes from the Russian River Brewing Company, so the need for safety is key. We highly recommend a car service, or Lyft, or Uber or a cab. You can contact us, when you book your stay at the Camellia Inn, for any car or limo service questions. If you've planned to go multiple times to the Russian River Pliny the Younger release, having a car service is an excellent idea. The beer is strong and the effects can be overwhelming. Having a trusted driver watching out for you and your things is an excellent way to go.
Healdsburg Inn
In the end, the Pliny the Younger beer release is a fantastic time for Sonoma County. People from all over the globe head into our county and enjoy what we get to enjoy every day. If you want to get more information you can head over to their website by clicking right here on Pliny the Younger. We highly recommend staying with us at the Camellia Inn or any other Healdsburg Inn during the Pliny release. If you're just coming for a night and need an excellent rest after your day of drinking wonderful beer, or if you have a few extra days with friends, staying in Healdsburg, California is the very definition of what John Lennon wrote in the quote above. Drinking beer and enjoying your time is the way you can continue to 'Count your life by smiles."