"Let's fade into the sun, Let your spirit fly, Where we are one, Just for a little fun, Oh oh oh yeah!
I want to get away, I want to fly away, Yeah yeah yeah" — Lenny Kravitz
When I think about the Camellia Inn B&B, this song always come to mind. It always puts a smile on our face and makes you want to start planning a trip somewhere exciting or fun. When I think about our guests and the possibility of putting together a Healdsburg Ca Spa day, weekend, or package it gets us excited. The Healdsburg Ca Spa scene is the real deal and there are a lot of options to choose from. If you are getting ready to plan for your spa experience, we think the Camellia Inn Bed and Breakfast is the right choice for you for a number of reasons.
Healdsburg Ca Spa – Location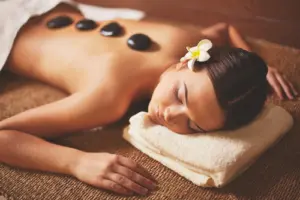 The Camellia Inn Bed and Breakfast should be your first choice for your Healdsburg Ca Spa experience. Our location is desirable because it's located in the heart of the city. We are within walking distance to so many excellent eateries, wineries and the town green. After you've decided on your spa package, you can kick back by our pool, eat a locally sourced breakfast and then head out an experience what Healdsburg has to offer. It's a win win in our book
Healdsburg Ca Spa Choices
The spa choices at our Camellia Inn b&b are some of the best in the Healdsburg Ca spa scene. We believe any choice you make is the right one. Since we have a great core of licensed massage therapists who are excellently trained in all modalities, we recommend contacting us in advance to book your Healdsburg Ca Spa experience. We don't want to toot our own horns, but we book up fast. Here are our options for you to choose from:

Camellia Signature
Relaxing Swedish Massage
Individuals Couples
60 min. $95 60 min. $205
90 min. $135 90 min. $285

Deep Tissue
Focus on tight muscle tissue provides deep stress release
Individuals Couples
60 min. $115 60 min. $245
90 min. $165 90 min. $345

Master's Massage
A senior therapist, trained in multiple treatment modalities, will consult with you on the specific needs of your body to create a highly customized treatment utilizing many techniques for ultimate stress relief and relaxation.
Individual Couples
90 min. $185 90 min. $385

Mother-To-Be
A therapist specially trained in pre-natal massage will address the unique needs of expectant mothers who deserve special pampering.
Individual
60 min. $105
90 min. $145

Reiki
A no-touch, visualization technique opens the flow of energy through your body, reaching physical, emotional and spiritual levels.
Individual
60 min. $115
You can also add one of these upgrades to your Healdsburg Ca Spa massage:
Scalp Massage $35
Reflexology Foot & Head Massage $35
Private In-Room Treatment (Select rooms only) $35

At the end of the day
The Healdsburg Ca Spa choices for you are excellent. The choices for you, that we listed above will meet all your needs. We'd love for you to stay with us at the Camellia Inn Bed and Breakfast for your Spa day, weekend or getaway. Our list of massages above are excellent, but you can also choose from many of the excellent packages we offer. You can look at the fantastic package choices we offer by clicking here. We know you'll find one that fits perfectly for you, or for your party or for your business trip. Whatever Healdsburg Ca Spa choice that starts to peak your interest, we'd love for you to contact us, so we can start the booking process or to answer any questions that you may have. Our staff is eager and willing to help in any way we can.