Do you love drinking wine in a relaxed environment after enjoying a colorful festival or an exciting outdoor activity? Then Healdsburg should be your destination. This charming small town with remarkable landscapes and pleasant weather, is located right here in northern California, in Sonoma County. Healdsburg is famous for its five-star cuisine, the fantastic wine growing appellations and the rolling hills. In such a place, enjoying bed and breakfast in Healdsburg is guaranteed. Read on to discover one of the best places Healdsburg has to offer.  Book your lodging with us and have a memorable time with friends and family.
We're #1 bed and breakfast in Healdsburg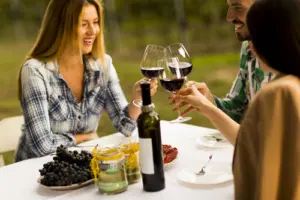 If you intend to make sweet memories with a loved one, family or friends then welcome to the Camellia Inn. We top in service delivery, dignity, serenity and technology. Situated in Sonoma County, you will love our bed and breakfast package. The package features nine rooms that are not only welcoming but also comfortable.
Our rooms are beautifully designed and you'll fall head over heels with our broad antique furnishings that blend naturally. The beddings are of the highest quality and you'll definitely enjoy sleep time to the fullest. You may be wondering how you can keep in touch with your favorite news; no need to worry. We are equipped with the latest technology. When you retire from a fun and tiring day, you will find an iPad in your room, ready to connect you to the world!
When travelling as a group you can enjoy our comfortable and hygienic cottages and off-site apartments. If you are the active type, there are plenty of outdoor events for you to enjoy such as hiking, golfing, wine tasting, horseback riding or exploring the beautiful grounds filled with various camellia plants that give this Inn its name. The Camellia Inn is definitely the crème de la crème of bed and breakfast in the world.  Here you can wake up to a cup of freshly roasted coffee and a mouthwatering breakfast that will take your breath away.
If you can visit us in April, you will get a chance to harvest the beautiful roses at the nearby distillery. Seize the moment for a truly unforgettable experience. There's lots of magical things to do in Healdsburg and you'll be happy you booked with us when you stay here. Feel free to call us today for bed and breakfast in Healdsburg.