"I was a millionaire twice over and half again before I was twenty-one. I stole every nickel of it and blew the bulk of the bundle on fine threads, gourmet foods, luxurious lodgings, fantastic foxes, fine wheels, and other sensual goodies." — Frank Abagnale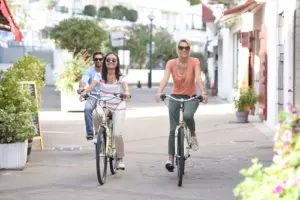 I think we all can agree that you don't need to be a millionaire twice over to want to partake in some time staying at the most luxurious lodgings. Lodging in Healdsburg Ca, has some excellent lodging choices for you. Our Camellia Inn B&B is a Lodging in Healdsburg Ca option that should be on top of your radar. Whether you're a lover of excellent wine, or you want to experience fantastic restaurants, or if you're living an alcohol free life, lodging in Healdsburg Ca, has anything and everything for you to make your trip a memorable one.
Close to It all
If you've decided to make your choice of Lodging in Healdsburg Ca with us at the Camellia Inn B&B, you're already on your way to an excellent time. You're also close to an assortment of wonderful restaurants, wineries and local music. Those are just a few options for you. If you are lodging in Healdsburg Ca, you can walk to just about anything. The Bear Republic Bar and Eatery is a 5-minute walk from our front door. As is the Spoonbar, which has a wonderful selection of food and cocktails for you to enjoy.
The Town Green always has something for everyone. Bring your walking shoes because you'll walk around all day visiting each store.
The Local Winery scene is an exceptional one. We'd love for you to contact us, so we can give you a list of great wineries. Wherever you want to go, we'll help lead you in the right direction.
River Sports
Every year, the Russian River has a ton of options for you to partake in while lodging in Healdsburg Ca. If you're up for rafting or canoeing, then heading over to the Russian River Adventures website to put something on the books is the way to go. If you have a dog, then heading to the Russian River for a walk and to go swimming will be your dog's version of heaven. Ask Russian River Adventures how the water level is. Draughts have been a real issue for the Russian River in years past.
Architecture and History
We highly recommend, while you're lodging in Healdsburg Ca, visit the Healdsburg Museum. First off, it's free and open to the public on Wednesday through Friday. If you want to learn about our towns rich history, then heading to 221 Matheson Street is a great option for you during your stay with us.
Hot Air Balloon Rides
A very unique and enjoyable option for you when you're lodging in Healdsburg Ca, is to take a Hot Air Balloon trip. Up & Away Ballooning, will give you a picturesque and unique way of experiencing beautiful Healdsburg and Sonoma County. Head over to their website for packages and find out who they are and what they offer.
Events
Anytime you're lodging in Healdsburg Ca, our town offers events for you to take part in. March is a big month for all the wine lovers. Barrell Tasting runs two weekends in March. For all the other upcoming Healdsburg events, be sure to take a look at our Healdsburg Activities Calendar to plan the perfect time to visit!
Lodging in Healdsburg Ca
If you've decided to make your lodging in Healdsburg Ca stay with us at the Camellia Inn B&B you can be 100 percent confident in the fact that your lodgings are taken care of. The next things to decide on are what it is that you want to do. Whether you want to enjoy the very best food, enjoy the sampling of exceptional wines, learn about the rich Healdsburg history or whatever else, the choices are limitless. We'd love for you to contact us at the Camellia Inn B&B to book your lodgings and to help you plan your excursions. Our staff is versed in everything and anything having to do with Healdsburg and will help you make the right decisions in order to make your stay the most memorable.