"Whether you live in a city or a small town, and whether you drive a car, take the bus or ride a train, at some point in the day, everyone is a pedestrian." — Anthony Foxx
I love coming across great quotes like this. Especially those that our Camellia Inn B&B in downtown Healdsburg can truly identify with. There's no greater truth than coming to Healdsburg and wanting to become a pedestrian almost immediately. There are so many things to experience while on foot in downtown Healdsburg. If you want to do some shopping, stop into some wineries, or enjoy some gallery time, below you'll find a guide that'll help you meet any of these needs as you meander around downtown Healdsburg.
Christopher Hill Gallery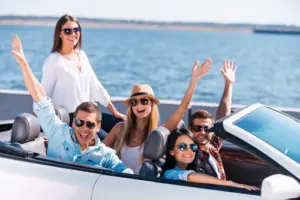 The Christopher Hill Gallery is exactly where it should be and that's in the heart old downtown Healdsburg. The Christopher Hill Gallery is an exceptional spot, where you'll be able to uncover for yourself a beautiful collection of treasures. The way the collections are presented to you and how it's so significant and nestled within the area makes it such a beautiful choice to experience. We at the Camellia Inn know first hand just how unique their artwork is. We appreciate them, and we know that you will as well.
Erickson Fine Art Gallery
A San Francisco transplant, this art gallery has become fully immersed in the community of Healdsburg. They try and emphasize the art from Northern California Artists. They are in a Palladio style building in downtown Healdsburg. The Erickson Fine Art Gallery has three stories of light filled rooms, showcasing the gallery's broad palette of talent from landscapes and figurative, to abstract work One World Fair Trade.
We think this is one of a select few stops you should make while roaming downtown Healdsburg. One World Fair Trade was established in 2002 and are independently owned. They specialize in authentic handmade gifts, jewelry, home decor, art, sculpture, textiles, clothing and women's accessories representing the diverse cultures of artisans in Asia, Africa, Latin America, Middle East and the United States. The sale of their products improves the livelihood of disadvantaged artisans and help pay for food, education, healthcare and housing for those who would otherwise lack opportunity for a stable income. They have created a sustainable market with long term buying relationships with their producers representing over 50 countries.
Shoffeitt's Off the Square
Who isn't in the mood for a unique souvenir while on vacation in a town with a rich history like Healdsburg? If you said you, then make a pit stop into Shoffeitt's Off the Square. This downtown Healdsburg icon has a beautiful, stylish and very well put together collection of Vintage, Antique and hand-made treasures for you and your family to look at. It's a downtown Healdsburg staple!
Simi Winery
Simi Winery has come up in a few of our blogs and its not a mistake. It's an absolute destination if you are hanging around downtown Healdsburg and especially if you're a lover of great wine. Like it says on their website, Simi Winery is 'Synonymous with Sonoma County.' That's 100 percent true. They've been going strong since 1876, and have been killing it ever since.
Zizi
Calling all women! Calling all women! If you're visiting downtown Healdsburg for your shopping needs, then a stop at Zizi is a must. They specialize in creatively casual clothing. Zizi is one of the most popular women's stores in downtown Healdsburg. From beautiful Jewelry, to Stiletto's to casual clothing, Zizi is a great stop for you. Don't hesitate to make a stop here, they have a lot to offer.
Downtown Healdsburg
When you come to Healdsburg, California you have some sort of an idea that you are coming to a town that is rich in history and has a wonderful supportive community. We also have a lot to offer you if you're coming to shop, drink some wine, or enjoy a gallery visit. Whatever the reason is for your trip to Healdsburg, or your plans for downtown Healdsburg, we want you to realize that there's no bad decision. We'd love for you to stay with us at the Camellia Inn because we are in the heart of downtown Healdsburg and within walking distance to these wonderful destinations. Please contact us if you have any questions about anything and everything. Cheers!
"Life moves pretty fast. If you don't stop and look around once in a while, you could miss it." — Ferris Bueller