Nestled in the Russian River Valley, Healdsburg is known for its enticing restaurants and wine tours. Yet, if you are looking for a day out with nature, this small city provides the perfect launching point for fun both on, and along the Russian River. Beginning in the coastal mountain ranges of northern California, the river flows southward through Healdsburg and turns westward toward the coast, where it empties into the Pacific at the town of Jenner. From casual sunbathing and swimming, to paddling and rock-picking by the sea, there are many ways to enjoy a day on the water. Here are three of our top outdoor options, sure to relax and inspire.  
River and the Coast: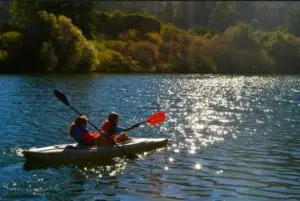 There is nothing quite like watching the river meet the ocean. Lucky for you, there are two ideal spots to watch and explore the end of the river. For a longer day trip, begin your scenic drive to the ocean mid morning. First head to Goat Rock State Beach. A short walk from the parking lot puts you at eye level with the mouth of the river. If you come in spring and summer months, Pacific harbor seals and their pups will be playing, napping, or surfing in the waves. Sand dollars, small shells, and colorful rocks can be found anytime of year. Those of you wanting a workout, try hiking the coastal Kortum Trail.
Once you have your beach fix, have dinner at River's End Restaurant. Or, skip Goat Rock all together and come just for a meal at sunset. Order the oysters. This romantic dinner with a view is worth the trip alone! All tables are placed in front of west-facing windows to capture the scenery while you eat. Perched atop the hills above the shore, the wrap-around porch has panoramic views of the river, ocean, and coast. Peer south and upriver to see islands of willow and maybe spot a deer grazing on them, a testament to their strong swimming capabilities. Look north and giant boulders guard the cliffs.
Bring a warm jacket or coat. The coast can be anywhere from 10-20 degrees cooler than in the valley back at your B&B Healdsburg room.
How to get there:
This scenic drive to the coast is about 1 hour long, depending on your route. Make your way to Highway 116 in Guerneville. Head west on 116. With the river on your left and the redwoods on your right, this is a gorgeous stretch of road. Once you hit the famous Highway 1, turn right/north to find the town of Jenner and River's End Restaurant. To find Goat Rock State Park turn left/south. After you cross the river and ascend the bluffs, the park entrance will be on your right. Meander down the road to the farthest parking lot to the north.
___________
Just Around the River Bend:
If a laid back and easy adventure is what you are looking for, then Del Rio Woods Recreations is the place to go. Just minutes from your doorstep at Camellia Inn B&B Healdsburg, this hidden swimming hole is a gem. Now managed by Sonoma County Regional Parks, it is relatively unknown to tourists. Picnic, swim, sunbathe, and relax. Wander out onto a sandy peninsula shaded by willows. This gives you a tad more privacy.
How to get there:
There is a reason for the secretiveness of the park: it is not well marked. Once on N Fitch Mountain Rd, you become aware of the river on your right. Go another mile and turn right onto Del Rio Rd (not marked!), which runs almost parallel to Fitch. It appears to be a dead-end street, but trust it. Soon an inconspicuous parking lot with Porta-Potties on your right appears. Park and walk down to the riverfront.
___________
Canoe and Kayak Trips:
For the more adventurous, call Loli at River's Edge Kayak and Canoe to book a half or full day, self-guided trip. They provide the boat, gear, and shuttle to the upstream launch point, and you paddle back to your car at headquarters. Private guides are available. Choose from a 5-6 mile half day paddle (Rio Trip), or a longer 11-16 mile journey that puts you upstream into the more wild and pristine stretches of the river (Alex Trip).
How to get there:
River's Edge is only a 3 minute drive or 20 min walk from Camellia Inn, on the banks below the Healdsburg Ave bridge.
_____________
No matter your mood, there is a Russian River adventure to suit it. Let us at Camellia Inn B&B Healdsburg be your base camp.  Contact us for more information.