So, you've decided to stay on your next trip at our Healdsburg b&b. Now it's time to figure out exactly what you want to do while you stay at our Camellia Healdsburg b&b. Whether this trip is a work trip, vacation or just a getaway, Healdsburg has so many enjoyable things for you to partake in. Here you'll find a handful of activities that we believe will help you to get the most out of your trip to Healdsburg.
Places to See in Healdsburg
Wine Country Walking Tour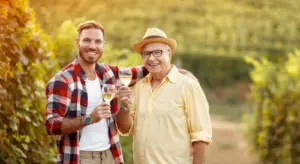 It's no secret our Healdsburg b&b is surrounded by some of the best wineries. Whether it's the picturesque Jordan Vineyard Winery on Alexander Valley Road, to the rural splendor of Bella Vineyards, or to the beautiful and rich history of the Seghesio Family Winery. While staying at our Healdsburg b&b, you can take part in a unique experience through a Wine Country Walking Tour.
Our Healdsburg b&b can help you put this together. A great idea is to get some exercise while sampling some different local wines and cuisine while on a Wine Country Walking Tour through downtown Healdsburg. You can expect nothing short of exceptional service. The tour guides are friendly and educated in the rich history of local wineries and cuisine. They highly encourage you to ask any questions you have or may arise during the tour. Chat with local winemakers, meet gourmet artisans, and then savor the fabulous flavors they have created for you. The Wine Country Walking Tour wants you to be engaged in the whole process so that you can achieve the very best experience imaginable.
The Wine Country Carriage
Another unique experience to take part in while staying at our Camellia Inn, is a Wine Country Carriage Tour. Leave your car at the Healdsburg b&b and take a five-hour Belgian horse carriage ride through surrounding Healdsburg vineyards. During your horse-pulled carriage tour you'll make stops at three different wineries. Bring your cameras so you can take pictures of the beautiful scenery that'll surround you. You'll get to see so many landscapes and vineyards that no car could ever take you to.
The Healdsburg Plaza
The Healdsburg Plaza is just a short walk from the front door of our Camellia Inn. If you don't know what you are looking to do, then a walk around the Healdsburg Plaza is a decision you can't go wrong with. The gazebos are a host to live music, and the small park is surrounded by boutiques, restaurants, and wine bars. There's no map needed, just pick any direction and you'll achieve your own Healdsburg experience. If you want ideas for a few great stops surrounding the plaza, then please ask the staff at our Healdsburg b&b. We'll point you in the right direction.
Wine Country Bike Tour
There are so many reasons why the Amgen Tour of California keeps having Sonoma County as one of their anchors for this bike race. We believe the most prevalent one being, peaceful. What's better than riding your bicycle on fantastic roads and the most picturesque settings? There are so many options for you if you want to go this route.
Whether you're an experienced cyclist, casual rider, or a family with children, there are many itineraries for you to choose from. Our Healdsburg b&b has information for you, but there's also a ton of information online for you to check out. You can head on over to the Santa Rosa Cycling Club's website for some information on bike rentals and organized tours.
One local company that we highly recommend is Adventures in Cycling. Dave Brazell runs a boutique Napa-Sonoma County Cycling adventure. Adventures in cycling will customize your bike tour so that you can have the very best experience possible. You can choose a day bike tour, motorized bike tour or a multi-day bike tour. All their tours are packaged with fantastic views, engaging guides, a few great wine tasting stops, and some great food. Dave and the gang at Adventures in Cycling will customize your bike tour around your location. So, when you check into our Healdsbug b&b, you won't have to worry about anything. Dave will meet you at a location, so you can begin your bike tour. All you'll need to bring is a great attitude and be ready to have a fantastic time on your bike tour.
Healdsburg B&B
When you stay with us at our Healdsburg b&b, you've already made your first great decision. But, what you do while you stay with us, is entirely up to you. There's no bad decisions in our opinion. If you decide on the Wine Country Walking Tour, or the Belgium Horse Carriage Ride, or that Wine Country Bicycle Tour, you'll be sure to have a great time. But these are just a small list of options at your disposal. Healdsburg offers you so much more. Please ask us at the Camellia Healdsburg b&b about anything else. There are always so many new events that are in the works all throughout the year.