"There is no private house in which people can enjoy themselves so well as at a capital tavern… No, Sir; there is nothing which has yet been contrived by man by which so much happiness is produced as by a good tavern or inn." – Samuel Johnson
I've recently been hooked on two television programs that take place back in the late 1700's and early 1800's. Those shows are Poldark and Outlander. Obviously not being around during those times, these television shows have portrayed a very realistic view on Samuel Jonson's quote. A Tavern or an Inn, was a place to go and have some of your happiest of times. Our Healdsburg Inn, called the Camellia Inn doesn't boast a tavern where you can come and drink away until all ours of the night. What our Healdsburg Inn does provide you with, is that happy feeling we all are always looking out for, and what looked like most people of the 17th and 18th centuries got to partake in regularly.
How our Healdsburg Inn Started
The building that is now the Camellia Inn played a historic role in Healdsburg. Contractor, William H. Middleton built the now Healdsburg Inn as a home for pioneer Ransome Powell in 1871. Powell, the son of a Tennessee farmer, was a tailor before fighting in the Mexican War. He came to California in 1849 with the Gold Rush. Failing to find gold, he began to earn a living by hauling freight. Settling in Healdsburg in 1856, he began several ventures, but it was in real estate that he made his fortune. Powell decided to sell the now Healdsburg Inn to Dr. J. W. Seawell in 1908. Dr. Seawell established the first Healdsburg hospital in the east wing of his home. The Hospital moved in 1969. Ray and Delmas Lewand purchased the home in 1981. Looking for a small-town atmosphere, the Lewands moved from Southern California and opened the Camellia Healdsburg Inn as one of the first licensed bed and breakfast Inn's in the area.
Local Taverns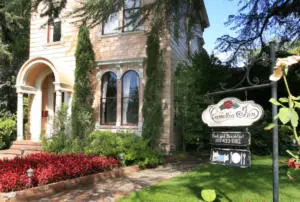 As you can see from the picture of our Healdsburg Inn, we have remained true to the overall feel of an old-time Inn. Inside, it's a different story. Please click here to see more pictures as well as learn more about how our rooms look like compared to previous centuries. Our beds are more comfortable!! As Samuel Johnson said in the quote at the top of this blog post, taverns were exceptional. Back in the day they were like this eras night clubs. Back in the day, taverns were usually on the bottom floor of an Inn, that's not so much the case these days. But, our beautiful Healdsburg Inn is walking distance to a very popular tavern, or brewery called The Bear Republic.
Our Healdsburg Inn, is only a five-minute walk to where you can get a taste of an array of deliciously locally brewed beer. As well as a fantastic menu that serves, in my opinion the best Chicken Wings around. The chicken wings are cooked with their most famous beer, Racer 5. As well as some more sauces to dip them in afterward. They also have a terrific Burger list, as well as salads and of course that extensive beer list. They are also very kid friendly and have an enjoyable kid's menu.
Cheers to the Healdsburg Inn
Our Healdsburg Inn has a rich history and we at the Camellia Inn can accommodate anything. If you are needing a getaway, and would like some wine, food and a massage, then we have the package or room for you. If you want to come to the Healdsburg Inn for your romantic getaway, we have the Wine Country Date package that'll meet that need. Also, if you're looking to host a party or get together with a group of friends, we have off-site rooms that will give you your privacy while also being connected to the Camellia Innkeepers.
Like those Inn's back in the day, this Healdsburg Inn is connected to everyone and everything. We may not have a tavern for you to enjoy, but we are a bed and breakfast. If you are looking to be around other people, then breakfast time is indeed the place to be. Also, our pool will be another area to kick back and enjoy a nice conversation.
I think we all can agree, the Camellia Inn's history, ties to local breweries, packages we offer, and overall experience is what will win anyone over when deciding to stay at this Healdsburg Inn. Just like those two shows I have gotten hooked on, Poldark and Outlander, the Inn's those shows portray are not unlike our Healdsburg Inn. Those Inn's and our Healdsburg Inn are connected because all we want to do is provide an exceptional service and a comfortable place to stay. Contact us and place your booking.