If you're seeking to do something a bit more laid back this weekend why not come and staycation with us here at Camellia Inn B&B Healdsburg? With luxurious accommodations, peaceful surroundings and the idyllic location we guarantee you a relaxing and fun filled weekend when you stay with us.
Enjoy Our Villa Style Pool at Camellia Inn B&B Healdsburg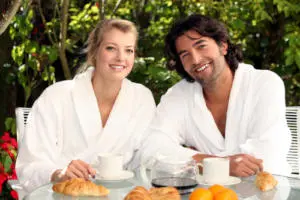 What better way to enjoy your stay than to spend time relaxing in our villa style pool. Want to stay by the pool all day? Not a problem you can even enjoy meals poolside under an umbrella equipped dining area if you don't want to miss out on your pool time.
Get Pampered and Feel Rejuvenated 
Outfitted with period tiles and a tall ceiling our spa offers an elegant atmosphere and serene surroundings that makes it the ideal retreat. Our Spa here at the Camellia Inn B&B Healdsburg is truly a memorable experience of relaxation and luxury.We offer soothing massage treatments in a series of different styles and our five star spa services will leave you feeling renewed.
First Class Experience at a Great Price
When seeking holiday accommodation some of the most important things that you look for are first class amenities, exceptional comfort and quality service. Well if you are looking for lodgings that offer all this and more Camellia Inn is the perfect place for you.
Here at Camellia Inn B&B Healdsburg we use the highest quality linens, bedding and in-room devices topped with exquisitely furnished rooms that provide an elegant setting that guest can enjoy.  Additionally you can start your day with our locally sourced breakfast which is served from as early as 8:30am to compliment an already fantastic stay. 
The best thing about staying at The Camellia Inn B&B Healdsburg is that we offer unbeatable rates for every budget. The fantastic packages that we offer make Camellia Inn B&B Healdsburg the #1 place to stay for most visiting Healdsburg.
Unwind and Relax
Create the perfect weekend with the ideal getaway. Check us out online at www.camelliainn.com for more information or give us a call at  707-433-8182 to book today.