"You can't be a real country unless you have a beer and an airline. It helps if you have some kind of a football team, or some nuclear weapons, but at the very least you need a beer." Frank Zappa
A little humor goes a long way in our book, but what Frank Zappa is saying about Beer, rings true to us in the Sonoma County Area and most definitely in downtown Healdsburg. The beer scene in Sonoma County is unbelievable. From Petaluma, to Rohnert Park, to Santa Rosa, to Windsor and to downtown Healdsburg there is a vast number of taprooms and breweries to wet that whistle of yours. So for you beer lovers, here is that ultimate list of our most favorite places to drink some tasty beer and some places to eat some great food.
Bear Republic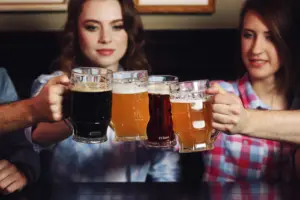 Let's get started with our prized possession in downtown Healdsburg! That being the Bear Republic Brewing Company which is located on Healdsburg Ave and two minutes away from our downtown Healdsburg Bed and Breakfast. At Bear Republic they take pride in understanding how hops work and how they make beer special. Each one of their beers starts with a unique recipe that incorporates quality ingredients and hand selected hops. You can enjoy seasonal beers and year around beers. We suggest the Hop Shovel and Racer 5. If you head into this downtown Healdsbueg Brewery you can enjoy their Racer X which is a Double IPA that is delicious. This is one of those stops that you'll be able to enjoy beer and food. They have tasty chicken wings, delicious salads, exceptional burgers and so much more. You'll delight in everything the Bear Republic Brewing Company is offering in downtown Healdsburg.
Barley & Bine Beer Cafe
This 7-month old taproom is a secret gem. Located about 15 minutes from downtown Healdsburg, Barley & Bine Beer Cafe can offer you an experience like no other taproom we've seen around Sonoma County. They have 28 beers on tap in five gallon kegs from breweries all over the state of California. They have Ciders and wine and a delicious food menu that's expanding as we speak. They have a fresh and tasty Watermelon Salad everyday, Flatbread Pizzas, Tater Tot creations, and Tri-Tip or Pulled Pork Tacos on Friday-Sunday. Barley & Bine Beer Cafe should be on all your lists if you love beer and a great time. The kegs tap quickly and are never the same. That is what makes this place so unique. So take that 15-minute drive from downtown Healdsburg and enjoy this exceptional Windsor Beer Cafe!
Henhouse Brewing Company
Henhouse Brewing Company is the place to be in our opinion! They are not to far from our downtown Healdsburg b&b in Santa Rosa. I don'tthink we can say it any better than they do on their website, so here's how they describe themselves and we couldn't agree more, "The HenHouse Brewing Company is an intentional business. Our intention has always been to make beers that you can be proud to drink. We make delicious beers of excellent quality and we make them in ways that anyone would be proud to support by drinking them. Our purpose is not only make beers, but to make living wage jobs, to make careers for our employees, and to make a difference in our community. From top to bottom, our company makes, sells, delivers, and serves beer with this intention and purpose in mind." We love this place and all its staff. Very friendly and very educated. They offer a food truck on the weekends but don't hesitate to come during the week because they have little baskets of popcorn. Through and through it's a great time. We recommend the "Fresh Pots" IPA or their Big Chicken. But they have so many other wonderful choices. Take a Growler to go at a great price.
BeerCraft Tap Room
This taproom is a little bit of a ride from our Downtown Healdsburg Camellia Inn, but well worth the trip. Beercraft offers many things. First off, their tap room is exceptional with about 15 beers on tap that come from all over the place. Their bottle inventory and taps are constantly rotating, so you can always expect 10 to 30 new beers in the store, plus 8 to 10 new beers on tap each week. In addition to many local favorites, they travel out of market to procure beer not available through the local distribution channels.
Stay with us at our Downtown Healdsburg Inn
Honestly, the beer scene in Sonoma County keeps getting bigger and bigger. Our downtown Healdsburg location is a perfect place to begin a beer tasting day or weekend. There are so many more breweries and taprooms not far from downtown Healdsburg, but we wanted to give you some of our favorites to help you get started. Check back in soon, for another list of exceptional breweries and taprooms surrounding our downtown Healdsburg location. You can also click here to book your stay with us if you want to get the party started!