Dogs accompanied by well-behaved owners are welcome so many places in Healdsburg and the Greater Sonoma County area. Of course, we love to have them here at the Camellia Inn, but they can also accompany you when you dine on local restaurant patios, join you for wine tasting, take a river trip, hike regional park trails and visit the beach. There are also dog-friendly pet shops and some other unique activites for you to share together when you visit.
Restaurants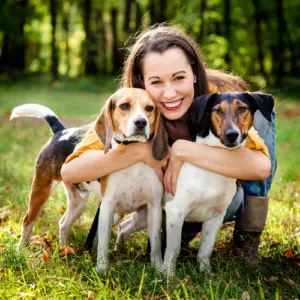 At this contemporary Chinese cuisine restaurant, you get rewarded for bring your pet to dine on their pet friendly patio. They give one free order of crab ragoons or vegetable egg rolls from their Happy Hour menu per table with an entrée during the summer months on the patio when you are accompanied by your dog. Water and treats are also available.
A great patio to enjoy traditional American food with your dog. The lush garden patio welcomes him with water and biscuits.
Costeaux French Bakery & Café
A full service bakery renowned for its world-class artisan and sourdough breads, cakes and desserts. The bakery café serves made-to-order bistro cuisine for breakfast and lunch daily. Dogs are welcome on their trellised patio.
Bear Republic Brewing Company
Beer and pub food with your dog on the patio.
StarkRestaurants.com/Stark-Restaurant/Bravas-Bar-de-Tapas
A Spanish Tapas Bar & Restaurant with a beautiful back patio that welcomes dogs.
Locally inspired small plates. New patio is dog friendly.
A dog-friendly deli and grocery store where you can pick up breakfast or lunch to eat at the front outdoor tables.
Diverse menu offers Korean BBQ, falafel, Cubano sandwiches, and milk shakes. Outdoor patio welcomes dogs.
Alioto's Healdsburger & Picks Drive-In
Yes, Healdsburg is known for trendy foodie restaurants but this restaurant is known for being one of the best places to get a burger in the county. It's garnered great reviews on TripAdvisor and Yelp and it's dog-friendly.
A country store and café. It's dog-friendly at its six outdoor tables where you can enjoy American family recipes inspired by generations of immigrants from across the globe. The menu includes boxed lunches, starters, soups, chili, salads, sandwiches, and breakfast items.
Facebook.com/MateosCocinaLatina
In the back is a lovely landscaped patio with ornate scrolled metal tables shaded by umbrellas and olive trees. The food is Yucatán-French-Sonoma cooking and your dog is welcome.
MoutainMikesPizza.com/CA/Healdsburg
They have five dog-friendly tables outside. Table service isn't available, so your dog will need to be tied up outside when you go in to order.
Sake 'O Japanese Restaurant
Dogs are welcome at the outside seating at this home of the Martini Prawns.
The menus change daily, inspired by what's in season, and reflect the commitment to local farmers and producers. Four-legged friends are welcome at the outside tables overlooking the creek.
Japanese comfort food with service to match. Unique tea offerings. Fido is welcome to join you at one of their few pet-friendly outdoor tables.
The Wurst Sausage Grill & Beer Garden
Wurst serves sausages, burgers, and thick milkshakes. Semi-enclosed outdoor seating area with umbrella tables welcomes dogs.
Willi's Seafood & Raw Bar
StarkRestaurants.com/Stark-Restaurant/Willis-Seafood-Raw-Bar
Bold and playful flavors abound at Willi's Seafood & Raw Bar, which features a beautiful, dog-friendly patio.
Dogs are so welcome in Sonoma County that some are not only invited guests, but offered doggie treats and a few even have special canine menus. Here are the truly dog-welcoming ones outside of Healdsburg.
 Howard's Station Café, Occidental
They offer a doggie menu served on the restaurant's open-air front porch. Menu items include: the bow-wow burger, kibbles and gravy, and other editions of human fare like ham and eggs and a tofu scramble. People enjoy big breakfast and lunch plates like huevos rancheros, Dungeness crab Benedict, smoked salmon omelet Florentine, juicy burgers, and Baja tacos.
Garden Court Café and Bakery, Glen Ellen
Complimentary dog cookie plates and water bowls on the patio. Canine menu includes the Blue Plate Special of eggs scrambled with ground beef, garlic and zucchini; egg whites with ground turkey; and a babaloo pizza bringing a biscuit crust smothered in jack cheese, catsup and fresh herbs. Two-legged companions can enjoy breakfast and lunch plates such as turkey-chorizo-green chile eggs Benedict, pastrami Reuben, big burgers, quite a few veggie specialties and the signature Baby Bear porridge dotted in raisins, brown sugar and milk. Our dog correspondent's dogs have LOVED everyone of the items on the Canine Menu.
Wineries
All the wineries listed allow dogs at their outdoor seating at our last review. Some do even more. The truly special ones, are listed at the bottom and have an astrick in our list.
Acorn Winery
Amista Vineyards
Amphora Winery
Arista Winery
Armida Winery
Bacigalupi Tasting Room
Balletto Vineyards
Bella Vineyards and Wine Caves
C. Donatiello Winery
Cellars of Sonoma
Chalk Hill Estate
Chateau Diana Winery
Christopher Creek Winery
Collier Falls Vineyards
Copain Wines
Comstock Wines
Deux Amis Winery @ Tasting Room on the Green
Dutcher Crossing Winery*
Flanagan Winery
Foppiano Vineyards
GC Lurton Vineyard Tasting Room
Gracianna Winery
Gustafson Family Winery
Kelley & Young Wines
Kobler Estate Winery
Kokomo Winery
La Crema Tasting Room
Lago Di Merlo Vineyards & Winery
Lambert Bridge Winery*
Lancaster Estate
Landmark Vineyards at Hop Kiln
Leo Steen Wines
Limerick Lane Cellars
Longboard Vineyards
Martorana Family Winery
Mauitson Wines
Mazzocco Sonoma Winery
Merriam Vineyards
Michel-Schlumberger
Mill Creek Vineyards & Winery
Mutt Lynch Winery
Optima Winery
Papapietro Perry Winery
Peterson Winery
Portalupi*
Quivira Vineyards
Roth Estate Winery
Reeve Wines
Roth Estate
Saffire Hill Winery
Sbragia*
Selby Winery Tasting Room
Sip Sip Lounge at Matrix Winery
Soda Rock Winery
Stephen & Walker
Stuhlmuller Vineyards
Thomas George Estates
Topel Winery and Tasting Room
UPTick Vineyards
Viszlay Vineyards
VML Winery
West Wines
White Oak Vineyards & Winery
Wilson of Dry Creek
Special for dogs in Healdsburg
At Lambert Bridge Winery it is proudly noted that the winery is "100% dog friendly!" While dog-owners peruse the winery's Bordeaux-style wine offerings at the redwood bar, dogs can settle into a dog bed and relax with a bowl of water. After a tasting, grab a bottle and some glasses and wander with your leashed pup through the estate gardens, where poop bags are plentiful and picnic areas dot the landscape. The same is true for Sbragia Family Winery. Dogs are welcome in the tasting room, on the patio and even in the vineyards. On the patio terrace, which overlooks the family's estate vineyards and the surrounding hills of Dry Creek Valley, staff provides humans with sauvignon blanc and zinfandel, and dogs with water bowls and treats. At Portalupi Wine's downtown tasting room your dog can people watches through the large, open picture window from big purple lounge chairs. At Dutcher Crossing Winery, dogs are welcome in the tasting room, where they can try on winery-branded dog collars for purchase while their owners taste estate zinfandel and other small-production wines. The back patio and lawn offer a grassy, sunny spot to nibble on cheese and charcuterie, and play catch, while overlooking Dry Creek Valley. Flanagan Winery
Other Especially Dog Friendly Sonoma County Wineries
Mutt Lynch Winery, Windsor
Winemaker Brenda Lynch and her husband Chris founded their winery as a tribute to man's best friend. Their downtown tasting room allows dogs to run free and play while their owners sip through cabernet, zinfandel and chardonnay – all with dog-themed wine labels. Their tasting room features plenty of water, treats and toys, and possible playmates, as staff members often bring their own pups to work.
Landmark Vineyards, Kenwood
Dogs are welcome throughout the property, where they can wander with their owners into the vineyard, followed by a chardonnay and pinot noir tasting in the courtyard or tasting room for the dog-owners. Dogs get the luxury experience: Fiji water fresh from the bottle served in a bowl.
Kunde Family Winery, Kenwood
Fourth-generation winegrower Jeff Kunde invites dogs to accompany their owners on a tasting, and to join him on a hike through his family's historic vineyards. The four-hour hike, which takes hikers and their dogs through oak woodlands, native grasslands and chaparral, features an overview of Kunde's sustainable winegrowing practices. The hike includes a wine tasting and a catered lunch. Hikes are $75 and human wine tastings are $15.
Muscardini Cellars, Kenwood
Well-behaved dogs are welcome in the tasting room, patio and the green rolling grounds behind the tasting room. Staff offer dogs treats, water and toys. Check out their online calendar for upcoming dog-themed events, which include dog photo booths, costume contests, and of course, vino. Human tastings start at $15.
B.R. Cohn Winery, Glen Ellen
A long-time dog-friendly winery they offers water bowls and treats for visiting dogs to enjoy while their owners taste cabernet sauvignon, olive oil and vinegars in the 1920s ranch home-turned-tasting room. Dogs are also welcome on the winery patio and grounds, which include estate vineyards and views of Sonoma and Mayacamas mountains.
Breweries
Bear Republic Brewing Company, Healdsburg
Dogs are welcome on the patio, which is right next to a patch of grass and trees near the Healdsburg square. The brewery offers a variety of beers, including the famous Racer 5.
St. Florian's Brewery, Windsor
St. Florian's founders dalmatian fits in with the fire fighting theme of the brewery brand and can often be found in the taproom. Enjoy your beer both inside and outside, dog at your side.
Fogbelt Brewing Company, Santa Rosa
Welcomes you and your dog on the street side patio. The brewery's taps are constantly rotating and there's a seasonal food menu with "chef's specials" such as deviled eggs and a butcher board. They make their own dog treats out of the spent grain from the brewery
Lagunitas Brewing Company, Petaluma
There's a lot of fun on tap at Lagunitas, for humans and dogs alike. There's a large, semi-covered, outdoor space with picnic tables, ample seating and plenty of water bowls scattered throughout. Pair the Daytime, Little Sumpin, Hop Stoopid, Lagunitas Sucks or Down Low with music and a dog-friendly vibe.
Activities
Outdoor Activities
Badger Park & Villa Dog Park
Ci.Healdsburg.CA.US/Facilities/Facility/Details/Badger-Park-3
Badger Park is a very well kept fenced off-leash dog park for small dogs under 17'' tall. Features include benches, a picnic table, water stations, information kiosk, and shaded areas.The Villa Dog Park is one of the nicest dog parks in Sonoma County, this 1.5 acre enclosed dog park at the Villa Chanticleer features plenty of parking as well as water and shade. There are poop bags available, some toys and a plastic baby pool for water-loving dogs.
SRCity.org/Facilities/Facility/Details/Doyle-Community-Park-58
In nearby Santa Rosa is a special dog park experience. At Doyle Park the entire park is open off-leash and unfenced for dogs between 6 – 8 a.m. every morning. Dozens of humans and dogs walk and romp around the park. There's a creek for dogs to run down and splash in and an enclosed and fenced area that is open for all the park hours.
Parks.SonomaCounty.ca.gov/Visit/Riverfront-Regional-Park
Dogs allowed on leash.
Sonoma County Regional Parks
Sonoma County operated more than 50 recreational sites, and most welcome licensed and well-behaved dogs on leashes no more than 6 feet long.
Offers canoe rentals on the Russian River where dogs are free to swim and romp all along the way.
Sonoma County Dog Friendly Beaches
o   Black Point Beach Located directly behind Sea Ranch lodge. Located along Hwy 1 south of the Sonoma/Mendocino Co. Line. The beach, parking and hiking trails are open during the day, usually from 6 a.m. to 8 a.m. and close at sunset. Dogs must be on leash… residents have a "clean up your doggie mess" code that visitors should adhere to.
o   Salt Point State Park 20 miles of trails plus four different beaches perfect for frolicking. Located on Hwy 1, approx. 27 miles north of Bodega Bay. 800.444.7275
o   Doran Beach Possibly one of the best Sonoma beaches for a family outing with your pet. Located on a "sand spit", Doran divides Bodega Bay from the harbor and Bodega proper. Please respect the bird watchers at the protected salt marsh on the other side of the spit.
o   Dillon Beach One of the last beaches that allows dogs off-leash! Located between Tomales Bay and Bodega Bay, about an hour from San Francisco and the Napa Valley wine country, Dillon Beach is a serene enclave with old-world charm.
o   Monte Rio Beach Located on the Russian River, this beach is a great family and pet beach with great access. Current can be strong off-season.
Indoor Adventures
This boutique is full of gifts for you and your pet, there's a treat gallery, toys galore, beds, a dressing table to try on pet attire. Pet stylist's so your dog can have a spa day, while you are enjoying a massage at the inn. They offer full and half day pet care, if you need to spend some time with just two-legged mammals.
A chic doggie boutique with everything from necessities to novelty gifts and indestructible toys. Dogs are welcome to sniff out their favorite objects and enjoy a drink of fresh water and a treat.
A plethora of products from hay and grain to a hundred varieties of pet food, from halters and lead ropes to fava beans, vineyard cover crop mix and rabbit pellets.
Original pet portraits in oil by local artist.
Things change, so we've provided you with website addresses so you can get further and updated information. As always, dogs are welcome at the Camellia Inn and we are happy to help you plan your trip to Dog-Friendly Healdsburg and Sonoma County. All the information was accurate as of April 2, 2018.  Contact us for more information.