"Just living is not enough," said the butterfly. "One must have sunshine, freedom, and a little flower." – Hans Christian Andersen
Yes, Yes, Yes Hans! This is 100 percent true, and downtown Healdsburg has all of this and more!
I think we all can agree that this might be the best time of year. April is a week away. We may see some April showers, but we all know what's right around the corner, and that's beautiful summer weather and a lot of quality time spent in downtown Healdsburg. You better believe our Camellia Inn Bed and Breakfast is in the heart of downtown Healdsburg and is primed and ready for your summer plans. Now, what do you do? Our staff at the Camellia Inn has the information you need and you can contact us at any time by clicking here. Right now, we've compiled a nice list of some of the popular stops you may want to check out while you stay with us at the Camellia Inn, in downtown Healdsburg.
Experience Downtown Healdsburg
First stop, Wine!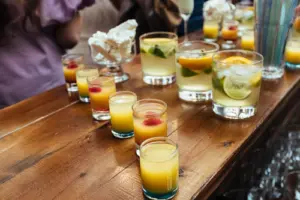 Alright, so we all know that downtown Healdsburg is riddled with fantastic wineries and tasting rooms! Our Camellia in is within walking distance to everything. We highly recommend you start your day at C Donatiello and their nice little tasting room. Our friend Meghan will entertain you as she pours you samples of their tasty Pinots and Chardonnays. Another great stop is a trip to see our friend Libby Cunningham at Bella Vineyards and Wine Caves. She'll help you to enjoy some wonderful Zinfandels as you enjoy a fun day drinking and picnicking. Bring your dog too, it's a great atmosphere for your pet.
Next stop, Cocktails and Appetizers!
Oh, you better believe that downtown Healdsburg has you covered when it comes to places for exceptional cocktails and appetizers. Okay, so you're leaving Meghan and Donatiello's tasting room, now what? Just cross the street and hit up Dukes! The bar is gorgeous with a great staff. They have a fantastic little kitchen right next door. Order up and a cute little woman will bring you some tasty treats. We recommend the Chicken sandwich as well as the pork tacos. You can't go wrong.
After you've sampled a nice Manhattan at Dukes in downtown Healdsburg, we suggest turning right, and heading up the Plaza street and taking another right on Healdsburg avenue. It's then just a short walk to get to Willie's Seafood and Raw Bar. This is a great airy, lively seafood café with a raw bar that serves tapas, lobster rolls, with a broad wine list. You can't go wrong with this little gem in downtown Healdsburg.
How about a nightcap!
Downtown Healdsburg has a great list of things to do and places to see. If you are winding down your night and are looking for a place to put some music on the Juke box, have a stiff drink and enjoy a cast of characters straight out of the tv show Cheers, then John and Zeke's is the place to hit up. Put a little James Brown on the Juke Box, drink a dirty Martini and play some shuffle board or pool. It's a fun lively atmosphere and the regulars are a riot. If you want to see one of the regulars really cut the rug, put on some Tom Petty, we promise you won't be disappointed.
Your last stop
If it's before 7 pm and you're roaming downtown Healdsburg after having your nightcap, you may want to have a delicious cup of coffee. We suggest hitting up the Flying Goat Coffee shop. You are about 800 feet from us at the Camellia Inn, so stop off and have an espresso, mocha or a hot tea. You can hang out at the flying goat and enjoy a laid-back atmosphere, or you can bring it to your room at the Camellia Inn, which is only 2 minutes from the coffee shop.
Downtown Healdsburg
The weather has changed and your plans to visit us at the Camellia Inn Bed and Breakfast in downtown Healdsburg, California is on the agenda. Whether you're looking to sample wine at Donatiello and Bella, or looking to enjoy cocktails and appetizers at Dukes, or needing a delicious dinner at Willies, or some laughs at John and Zekes, your summer stay in downtown Healdsburg won't disappoint. We'd love for you to book a room at our Camellia Inn now, but we'd also love for you to contact us with any questions or concerns. Our excellent staff has all the answers you need and will point you in the right direction if they don't. Remember, sunny skies, long nights and many laughs await you as you walk the beautiful paths of downtown Healdsburg.