Healdsburg, California is host to some of the best lodgings in Sonoma County, and we at the Camellia Inn Bed and Breakfast are a part of that. Our bed and breakfast has many options for you when you are planning your lodging. From our many cozy and comfortable on and offsite rooms, to our Spa and it's many excellent treatments, and to our locally sourced breakfast. Lodging with the Camellia Inn is a great idea, and most likely, not the only thing you'll need to plan while on your trip to Sonoma County.
If you've indeed decided to book your lodging anywhere in Sonoma County, then you're most likely looking to stop in and partake in the many delicious eateries Sonoma County has to offer. Since you've booked your lodging with us at the Camellia Inn, here is a list of eateries near our lodging and some where you'll need to take a nice little trip to get to; none are more than 20 minutes away.
Healdsburg California – Baci Cafe & Wine Bar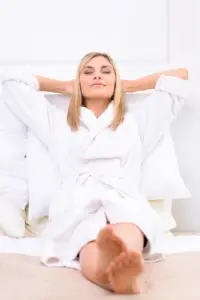 Located at 3336 Healdsburg Ave, Baci is only a five-minute walk from your Camellia Inn Bed and Breakfast lodging. When you check out this place, you'll have to be in the mood for an up-tempo and busy atmosphere. This is a high flying social buzzing restaurant that has excellent service and even better food. Start off with the Carpaccio and the Burrata appetizers, follow that with the short ribs, the excellent Bolognese sauce or the exceptional Petrale Sole. If you don't already have a sense about Wines and what they should be paired with, don't hesitate to ask your servers. They are some of the best around and most knowledgeable on the wine pairing topic. They are glad and ready to help you get the very best out of your dining experience.
Dierks Parkside Café
Located at 446 Santa Rosa Ave in Santa Rosa, Dierks Parkside Café is worth the 15-minute drive from your Healdsburg lodging. This brilliant breakfast establishment has been a main stay of Santa Rosa for many years and has another location on 1422 4th street. You can check that location out, but the original has all the ambiance and history which, in our opinion, leads to a better eating experience.
What you'll need to consider first, the restaurant is a small one and the whole town wants to eat here, especially on the weekends. But, the wait is worth it. The food you'll receive is second to none and the serving sizes are big and not too hard on the wallet. A few staples are the delicious chicken fried steak and my personal favorite, corned beef hash. Both were among the best that we've had. The chicken fried steak has an exceptional flavor and fantastic breading. The service is always prompt and extremely reliable. You'll probably need a morning nap, so head back to your lodging and take a nap in one of the Camellia Inn's comfortable beds.
Amy's Wicked Slush
Located at 13840 Healdsburg Ave, Amy's Wicked Slush is another short 4-minute drive or ten-minute walk from the front doors of your Camellia Inn lodging. We can't express enough how fun this place is, and quick. If you are in a hurry and just need something to hold you over, this is your place. If you're lodging in Healdsburg and are out walking around with your family, and your kids are in the mood for a delicious slushy, again this is the place to check out. From Bagels to Meatball Subs, Regular brewed Coffee to Waffle Cones, Amy's Wicked Slush is a real treat of a choice while lodging in Sonoma County.
Russian River Brewing Company
Located at 725 4th street in Santa Rosa, California, Russian River Brewing Company is a must visit while lodging anywhere in Sonoma County. It's just a short 15 minute drive from your lodging in Healdsburg. Their beer list is second to none in the area. From the Blind Pig to their most popular Pliny IPA, the beers are amazing. But a lot of people don't recognize Russian River Brewing Company for some of the most delicious appetizers, salads and mouth-watering Pizzas. This is what I order every time I check into Russian River Brewing Company, A Pint of Blind Pig, A Cesar Salad (which could feed 2), the Drew Bites (a cheese pizza cut up into little bites and topped pepperoncini's) and followed by a Mikey Pizza (mozzarella, marinara, pepperoni, sausage & caramelized onions). If I'm not too full, I'll finish the evening with a Belgian style beer that has a fruity taste, it's called the Damnation. The service is a little spotty because the place is busy almost every night and day. But, it's well worth the reward when you take your first sips and nibbles.
All in all, there are so many options around the area for you when lodging with us at the Camellia Inn in Healdsburg, California. These are just a few of the choices we have grown to love, and we hope you do to!