"Breakfast was only worth having when somebody else made it for you." – Caroline B. Cooney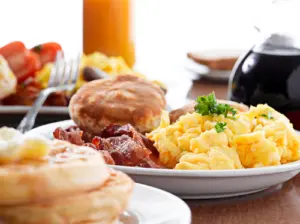 How spot on is this quote from Caroline Cooney? Why is it so much better to eat breakfast at a restaurant rather than at home? It's probably the fact that there's no clean up involved and that the food is probably fresher than what you have sitting in your refrigerators. Our Healdsburg breakfast at the Camellia Inn Bed and Breakfast will be doing the cooking for you. Fresh, Locally Grown, & Delicious is what we live by when it comes to our breakfast. Whenever possible, our breakfast ingredients are locally-sourced, organic and sustainable, in-season and "right off the farm" fresh. Click this: Camellia Inn Breakfast, to read more about the many options we have for you during breakfast time at our Camellia Inn.
Obviously, when you stay with is at our B&B, you'll have that option for breakfast each morning you wake up. There's no pressure to eat breakfast with us. We completely understand that you might want to get a taste of the town. There are some wonderful Healdsburg breakfast options for you to choose from. Here are a few of those Healdsburg breakfast spots that we at the Camellia Inn have enjoyed over the years.
Flakey Cream DO-Nuts & Coffee Shop
Let's just start this Healdsburg Breakfast list off with a blast from the past feeling breakfast joint. Flakey Cream DO-Nuts & Coffee Shop is located at 441 Center St. Only a 5-minute walk from our front door, This Healdsburg breakfast spot isn't the place you go to for the feel. Flakey Cream DO-Nuts & Coffee Shop is the place you go to spend a reasonable amount of money for some hearty delicious breakfast food.
If you've read any of our other blog posts that have mentioned breakfast menu's, then you'll realize how fond I am of corned beef hash and eggs. Flakey Cream DO-Nuts & Coffee Shop won't let you down there. They have a fantastic corned beef and hash option. A few other menu options from this great Healdsburg breakfast shop that you should check out are, biscuits and gravy, all American breakfast, and the #11. The #11 is vegetarian and provides you with 3 veggie sausages, eggs and hash browns. Don't forget to get after a donut or 12! From ray's originals to the custer-filled. You can't go wrong. You bet big time! Owners, Vannak and Sokynthea (aka., Nick and Nickie) a married couple from Cambodia came to this country, worked hard, and established a top-notch coffee shop.
Shed
So, I'm not going to be like Will Ferell on Saturday Night live and yell at you to 'GET OFF THE SHED', rather I'm going to yell at you to 'GET INTO THE SHED!" This Healdsburg breakfast spot is a nice place to enjoy some farm to table style menu items. SHED has a wonderful ambiance to it. It's a very clean spot to enjoy your breakfast any day of the week.
The theme of this Healdsburg breakfast blog seems to be boiling down to a biscuits and gravy review. But seriously, SHED's biscuits and gravy are to die for. You can also order this exceptional menu option, Anson Mills Stone Ground Polenta with a slow poached egg, garlic Scapes, wild mushrooms, and swiss chard Conserva. Trust us, it's a must. Located at 25 North St, our B&B is only two minutes from this Healdsburg breakfast masterpiece!
Singletree Café
The Singletree Café, located on 165 Healdsburg Ave, is a lead pipe lock when you are deciding on a Healdsburg Breakfast option. A three-minute car ride from the Camellia Inn is where the Singletree Café sits waiting for you to come in. The portions are fresh as fresh can be, and filling. The Eggs Benedict as well as the Crab Benedict are brilliant. Another delicious treat is their blueberry pancakes. Trust us, be ready for blueberries! The Singletree Café is an old-fashioned Healdsburg breakfast staple, just like we are at the Camellia Inn.
Healdsburg Breakfast
Our Camellia Inn B&B is all about serving you breakfast. Contact us in order to book your rooms and ask us about our breakfast service. We love doing it, and so do these Healdsburg breakfast spots we listed in this blog post. This is just a few of the many breakfast places that are at your disposal when you stay with us or anywhere in Healdsburg. We suggest you take advantage of our daily locally sourced and delicious breakfast first. Then, head out and get a taste of the town.
"Everyone runs around trying to find a place where they still serve breakfast because eating breakfast, even if it's 5 o'clock in the afternoon, is a sign that the day has just begun, and good things can still happen. Having lunch is like throwing in the towel." ? Jonathan Goldstein