Well, it's 2 and a half weeks until Christmas! Are you all ready? We here at the Camellia Inn Healdsburg b&b, are ready for you. If you're planning a trip to the North Bay for the Holidays, and Healdsburg is on your radar, we hope you'll consider a stay at our Bed and Breakfast. Bring the family, we have plenty of options at our Healdsburg b&b. For example, we have our "Family Suite" with two rooms sharing a bath which can be perfect for up to four. We have so many more options, just head on over to our website to take a peak at everything our Healdsburg b&b has to offer.
Whether you stay with us or at another Healdsburg b&b during the Holidays, there will be a bevy of entertaining options going on in Healdsburg and our surrounding Sonoma County areas. I thought I'd introduce you to a bunch of Holiday events going on, in hopes that it'll encourage you to plan a Holiday trip and stay at the Camellia Inn.
Holiday Lighted Boat Parade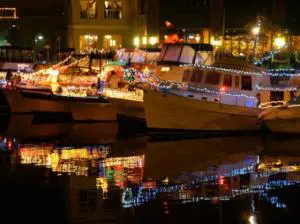 On Saturday December 9, from 6 pm until 8pm, The Petaluma River Turning Basin will be having an exceptional boat lighting parade. Check into our Healdsburg b&b, and head down to Petaluma. It's only a 30-minute drive from our Camellia Inn Healdsburg b&b to the town of Petaluma. We suggest you make a day out of it. There will be free tastings of Pie from the Petaluma Pie Company and the Petaluma Holiday Arts and Crafts Sale will be taking place from 10 am until 4 pm. Then you can kick back and enjoy the Holiday lit and decorated boats float on by. It's a really great time, and best of all it's free.
Wine and Dine
I think we all can agree, anything having to do with Wining and Dining is going to get people's attention. How about a Wine Walking tour? These tours are especially popular during the spring and summer months. But, during the Holidays, they are extremely special. A 4-hour day tour is offered every day, but we highly recommend an evening tour which is only offered from Thursday through Sunday.
Our town of Healdsburg is all lit up in its Holiday glory, so you'll witness the magic of the season while enjoying the tastes of the town from three of our top restaurants. Enjoy the Christmas tree lit plaza, colorful street decorations, festive window displays and carolers. What's also unique, your evening tour can be catered around any of the Holiday events that may be happening at that time. Also, our Camellia Inn Headsburg b&b is in the heart of the city, so it can be your home base as you begin your Holiday Wine Walking Tour.
You can get all the information you need here at www.winecountrywalkingtours.com. You can also contact us at our Camellia Healdsburg b&b and we'll help you get all set up.
Madrona Manor's Dickens Dinner Series
The Dickens Dinners are a highlight of the year at Madrona Manor, when carolers wander the dining rooms, dressed in period clothing of Olde 19th Century England, and The Twelfth Night Singers pause for private a-cappella serenades of "Jingle Bells" and breathtaking hymns. Even more delicious, is the Michelin-star executive chef Jesse Mallgren's five-course celebration of new and old holiday traditions, paired with wines. Prices range from $110 – $210 depending on the night. Reservations for Christmas Eve and Christmas day require a non-refundable deposit of $50 per person. The dinner dates are December 8 through December 25th. Stay at our Healdsburg b&b and you're a five-minute walk from the Madrona Manner. A Michelin Chef and the Camellia Inn Healdsburg b&b, no-brainer!
Horse Drawn Carriage Rides
Santa Rosa, California is only a 15-minute drive from our Healdsburg b&b. Starting back on November 24th and lasting until Christmas Eve, Santa Rosa will be offering exceptional Holiday Horse Carriage rides on the weekends. Weather permitting, you'll be able to take advantage of a free horse carriage ride around the historic Santa Rosa Railroad Square. Take a ride between 11 a.m. and 4 p.m. on Saturdays and Sundays and from 11 to 3 p.m. on Christmas Eve. For more information you can head over to http://www.railroadsquare.net/
Happy New Year, Charlie Brown!
If you are planning a New Year's stay at our Healdsburg b&b with your children then on December 31st, the Charles M. Shultz Museum in Santa Rosa has the family event for you. Starting at 10 am you can start to ring in the New Year with Snoopy, hands-on crafts for kids, and Santa Rosa's only Up-Down and Baby Balloon Drops at noon. There will be root beer toasts at noon and 3:00 p.m.!
I know there is something on this list of Holiday Events that'll entice a trip and stay at our Camellia Inn Healdsburg b&b. This is also just a short list! There are so many other special Holiday events happening all around us and ones that keep popping up. It's a great time to book a trip!