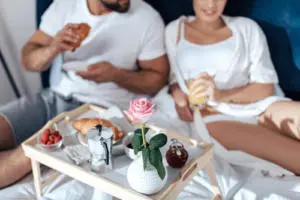 If you are planning to visit Sonoma County in California, then you should consider Camellia Inn as your best B&B Healdsburg stop. Sonoma County has a lot to offer tourists and visitors alike. It would therefore be prudent and strategic to get accommodation in an area that is close to some of the best tourist attractions the county has to offer.
B&B Healdsburg – What We Have To Offer
Camellia Inn is basically a bed and breakfast that is set in Healdsburg's quiet charm. The inn features nine rooms beautifully furnished to make a visitor's stay welcoming and comfortable. You will fall in love with our first-class mattresses and eclectic blend of antique furniture. If you happen to be travelling as a group, you are assured of comfortable accommodation. Camellia Inn provides five cottages ad off-site apartments suitable for small families or traveling couples.
It is not left behind when it comes to technology. The inn was the first Healdsburg B&B to offer guests iPads. This means you can work or enjoy internet should you have forgotten your laptop or tablet when you were packing. Long established ties with the locals allow the staff to arrange for you special experiences and private-by-appointemnt wine tasting. The location of Camellia Inn is close to the Healdsburg town plaza. This is the home of chic shops, art galleries, antique stores, wine hospitality rooms and Zagat rated restaurants. Additionally, there are free concerts and events every season.
Other activities in the area
There are some activities you can enjoy in Sonoma County when on your stay and these include:
Armstrong redwoods state reserve – the majestic, serene beauty of this grove is a constant remainder of the primeval magnificent redwood forest that covered the majority of the area before logging operations started in the 19th century.
Burke's Russian river kayaks and canoe trips – you can canoe down the famous Russian River by using Burke's canoe trips
Camellia Inn is situated strategically to offer you the best of Sonoma County. Apart from wine tasting and visiting popular attractions, you can sit back and unwind in the comfort of your room. Alternatively, you can also go for camping and hiking in the surrounding areas. There are lots of activities to choose from when staying with us. If you are looking for the best lodging then contact us for accommodation like no other in Sonoma County.