Situated spectacularly, between Fitch Mountain to its east, and lovely low mountains to its west, Healdsburg is less than 70 miles from San Francisco, yet you'd be forgiven for feeling as though you'd landed in another world, when visiting. A historically beautiful environment, with both a strong architectural heritage, and an agricultural one, Healdsburg is surrounded by serene and stunning landscapes as bountiful as the Garden of Eden. For this is Sonoma County, home to three important wine-producing areas.
The History of Healdsburg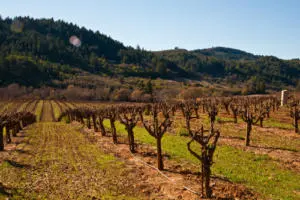 Healdsburg's cultural heritage, which began in 1857 is entwined with its earliest inhabitants, the Pomo people, yet it has always evolved with the times, making it a unique blend of what's best both contemporarily and historically. The Camellia Inn is a perfect example of that, reflecting beautifully how history and modernity can provide the best hospitality experience to its guests.
The Lewand family have been welcoming guests to the Camellia Inn bed and breakfast continuously since 1981, but it was first built as a home in 1871 for a real estate magnate. Lucy Lewand and her Scottish partner, Archie, have successfully combined modern practices to their business, so that, whilst retaining the building's charm and hospitality, the Camellia Inn feels just like a traditional country home. Situated in lovely grounds and gardens, the inn's nine rooms are individually dressed in period furnishings, but guests will also find iPlayers for their convenience.
Accomodation at the Camellia Inn in Healdsburg
That homely atmosphere is enhanced by the sumptuous smell of home baking that greets guests when they arrive at the Camellia Inn's main house. The owners also offer self catering accommodation off site consisting of five apartments and cottages, for larger parties and families.
Evening meals are not regularly provided at the Camellia Inn but they do have some special events, such as their annual Robert Burns dinners, special chocolate Wednesdays, and they host several musical events. For example, they are hosting a Celtic Concert in November with master guitarist Archie Fisher, former host of the BBC's "Travelling Folk".
Exploring Sonoma County's wonderful countryside, will certainly give you an appetite and within walking distance of the Camellia Inn, you should be able to find almost any food you desire in Healdsburg. Whether you choose to eat seafood at Willi's; Italian food at Campo Fina; Mexican cuisine at the Agave; or burgers and hot dogs at Alloto's; your appetite will be more than satisfied locally in Healdsburg. Contact us and enjoy a wonderful and memorable experience.